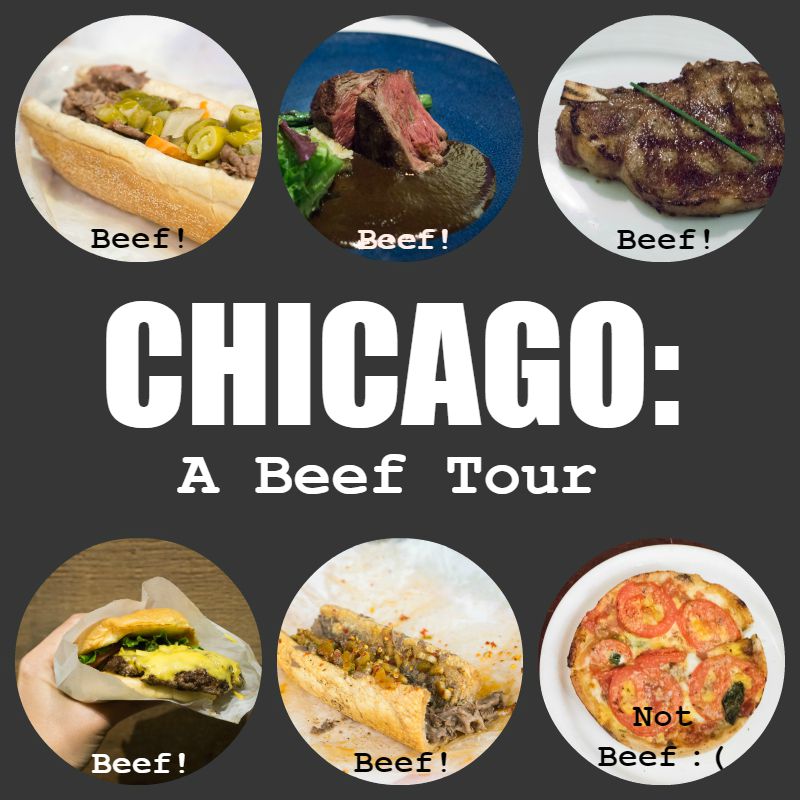 When I was planning a four-day trip to Chicago, I didn't intend to eat beef at almost every meal. I guess I had forgotten that Chicago was once home to the world's largest meatpacking district. And I suppose I also didn't think about Chicago's brilliant invention of the Italian beef sandwich, and its long love affair with the Chicago-style hot dog.
Anyway…here, in order of beef-meals consumed, is my Chicago Beef Tour. (As a bonus, I've also added a non-beef meal at the end!)
DAY 1 (dinner): Portillo's: The first night we arrived, J. and I went to Portillo's for hot dogs, Italian beef, chocolate cake shakes (!) (this will be the subject of a later post!), and frozen custards. I didn't realize that Portillo's was a national chain, with branches in California, Arizona, and Indiana. Its chain status became quite apparent once I saw the inside, which was very kitschy and reminded me of the New York, New York hotel in Vegas. (Oddly, in contrast to the happy decor, the employees all seemed pretty bummed out.) Portillo's Char-Grilled Maxwell Street Style Polish dog was salty, crusty, and reasonably tasty. I ordered the Italian Beef with hot peppers, which came on a slightly stale bun, and featured thinly-sliced, fully-cooked beef, which had the slightly unnerving quality of being both juicy and tough. Do I sound crazy when I say that the Italian Beef tasted slightly Chinese in terms of the way it was prepared? It tasted, in an austere way, of beef, salt, and tangy pickles, which transported me back to my childhood lunches of marinated cold collagen-streaked beef, sliced thinly and piled onto steamed buns. I liked it.
DAY 2 (lunch): Topolobampo: I'm an Angeleno at heart, so I had to swallow my pride in order to part ways with the anti-Rick Bayless training I've received over the years. And once I opened my heart and my eyes to Mr. Bayless's food, I was justly rewarded. His restaurant Topolobampo served me one of the best meals, and, most importantly, one of the best beef dishes, I enjoyed in my short trip to Chicago. His famous (and pricey) dish of carne asada with mole negro absolutely did not disappoint. The light, delicate mole perfectly complemented but did not overwhelm the beef. The beef itself was crusty, juicy perfection. The dish was served with warm handmade tortillas, which both detracted from the beef but also added their own dimension of soft, pillowy tastiness. I ate half the dish with the tortillas, and savored the other half of the beef alone, with its mole sauce. I may or may not have licked the plate clean. :-] The quesadilla with huitlacoche, truffle, mushroom, and corn was also very tasty – the flavor was earthy and slightly sweet. And who wouldn't jump at the chance to eat corn fungus?
DAY 2 (dinner): David Burke's Primehouse: Ahh, a classic steakhouse in the Midwest! I ordered the 40-day-aged ribeye steak, and J. ordered the 55-day-aged ribeye. I suspect the steaks were cooked sous vide, because the fat had a gelatinous texture. Regardless, the meat was delicious – my 40-day-aged steak had a sweet, light, and gentle aged flavor, while J.'s 55-day-aged steak and a deeper, richer flavor, reminiscent of blue cheese, that I really enjoyed. Oh, and did I forget to mention cheesy popovers served at the beginning of the meal, and red velvet cake frosted tableside for dessert? The beef is the main attraction of a steakhouse meal, but the other courses make the experience so much fun.
DAY 3 (second dinner): Shake Shack: We ate an epic dinner at Alinea, which will be the subject of another post, another day. But is there anything more decadent-feeling than eating a burger as dessert after your first dinner? The New York native Shake Shack's Shackburger features an unevenly shaped patty, salty and crusty from the grill, served on a squishy-fresh bun. The chain has a decidedly yuppie gourmet feel to it, with an ever-changing menu of on-trend frozen custard flavors, craft beers, and even treats for dogs. Definitely an upscale late-night snack experience.
DAY 4 (first lunch): Al's Beef: As J. and I waited for our pizzas at Lou Malnati's (see the following entry), I ran up the street to sample an Italian beef sandwich from Al's Beef (which, I later learned, is also a chain). Based on my experience with the grand behemoth of a restaurant that was Portillo's, I was surprised to find Al's Beef to be a tiny, clean, no-frills shop that basically looked like a fast-food joint. I ordered the regular sandwich "juicy," which means it came dripping in oil – as I unwrapped it, my fingers and hands became liberally covered in spicy oil. Al's sandwich was much fresher-tasting than the Italian beef at Portillo's. The meat tasted higher-quality (which probably accounts for the slightly higher price of Al's), and the spicy celery pickles were a welcome complement to the fatty beef. I really enjoyed this sandwich, but it was heartburn city, and I probably wouldn't be able to eat it very frequently. However, it was better than Portillo's in both my book and J's (sorry, Portillo's fans!).
DAY 4 (second lunch): Lou Malnati's: Double-lunch is almost as good as double-dinner! Unfortunately, this meal was not focused on beef, but rather on Chicago's other hometown favorite, the Chicago deep-dish pizza. J. and I decided to order personal sizes of the most popular pizzas – vegetarian and sausage. Both were quite delicious. The veggie pizza was not very salty at all, but still had a lot of flavor, and the sausage pizza was more savory and flavorful. (I can imagine that adding sausage to a veggie pizza order would be the perfect combination.) While Lou's was delicious, I'm not sure that it was better than Zachary's in Berkeley, which was my first deep-dish pizza and my all-time favorite. I would highly recommend Lou Malnati's for any first-time trip to Chicago (unless, of course, you have a Zachary's close by!).
ALL ADDRESSES
Portillo's
100 W Ontario St
Chicago, IL
(312) 587-8910
http://www.portillos.com/
Topolobampo
445 N Clark St
Chicago, IL 60654
(312) 661-1434
http://www.rickbayless.com/restaurants/topolobampo/
David Burke's Primehouse
616 N Rush St,
Chicago, IL 60611
(312) 660-6000
http://www.davidburkesprimehouse.com/
Shake Shack
66 E Ohio St,
Chicago, IL 60611
(312) 667-1701
https://www.shakeshack.com/
Al's Beef
169 W Ontario St
Chicago, IL 60654
(312) 943-3222
http://www.alsbeef.com/
Lou Malnati's
439 N Wells St
Chicago, IL 60654
(312) 828-9800
http://www.loumalnatis.com/