Sunnyvale, California is a small, sleepy city in the San Francisco Bay Area, right next door to San Jose, that is rife with expensive housing, young software programmers, and, best of all, a really great Indian food scene. So when my husband had to relocate for work to Sunnyvale for a year, I was not too displeased. I was sad to leave Los Angeles, but I was also excited about the prospect of exploring Indian cuisines in Sunnyvale. As it turns out, the variety, quality, and amount of good Indian food was indeed very impressive. For example, if I didn't like the dosa place around the corner from my apartment complex, all I had to do was walk a block to the next dosa joint.
Because I often myself craving Indian food while my husband did not, I realized I had to secretly eat most of my Indian meals at lunchtime. This provided me with a perfect opportunity to sample the Indian buffet options in the area. It was time…for an Indian Buffet Adventure!
Along with saddling me with several new pounds of body fat, my Indian Buffet Adventure taught me the following lessons:
Buffet offerings will generally never be quite as good as the restaurant's regular-menu offerings. This makes sense, right? Yet I was still surprised when I discovered that the butter chicken served at one restaurant on its regular menu was distinctly better than the same dish served on its buffet line. Restaurants are churning through huge amounts of food that they're making for a crowd, which sits in steam table trays for hours, versus a dish that they're preparing just for you. So I wouldn't necessarily judge the quality of a restaurant based on its buffet. (A notable exception to this rule is naan, which was frequently delivered fresh from kitchens during buffet service.)
Try to go during the first hour of service. As a chronically-late individual, I often went at the end of buffet service, and at that point many buffets were already slowing down. Restaurants can find it challenging to keep buffet food hot if you arrive hours after they've set out food in the hot trays (as I learned the hard way).
There's not a tremendous variation in price among the buffets, but I've found that, generally speaking, a buffet priced below $10 will not be as good as a buffet priced above $10. That being said, the highest-ranked buffet (Sakoon) was not the most expensive, and the lowest-ranked buffet (Bombay Gardens) was not the cheapest.
Without further ado, here is the ranking of restaurants from my Indian Buffet Adventure.
3701 El Camino Real
Santa Clara, CA 95051
(408) 241-5150
Buffet Hours: M-F 11:30am-2:30pm; Sat.-Sun. 11:30am-3pm.
Buffet Pricing: $12.95
Quick Bites: With its carpeted, sprawling interiors and cocktail menu, Bombay Garden looks like a once-glorious vestige of a time gone by. The food, served in cavernous brass pots, was lukewarm but well-seasoned. The naan was excellent and made-to-order, but I had to ask for it. The restaurant ran out of tandoori chicken; when I asked for more, they promptly prepared a fresh batch of juicy and perfectly seasoned and seared chicken.
673 Grape Ave
Sunnyvale, CA 94087
(408) 736-2837
Buffet Hours: Tues.-Fri. 11:30am-2:30pm; Fri.-Sun. 11:30am-3pm
Buffet Pricing: Tues.-Th. $10.99; Fri.-Sun. $11.99
Quick Bites: Charming hole-in-the-wall Taste Buds, tied with Little India as the cheapest option on this list, is one of my favorite restaurants for its non-buffet offerings (their Gobi Manchurian Butter Chicken are particularly good). While the restaurant's buffet curries weren't as flavorful as their non-buffet counterparts, they were still fresh-tasting and well-cooked. The buffet had enough options to keep both vegetarians and meat lovers happy. Also, free chai!
5. Mezbaan
3939 Rivermark Plz
Santa Clara, CA 95054
(408) 845-0064
Buffet Hours: M-Sun. 11am-3pm
Buffet Pricing: $14.99
Quick Bites: Located in a ritzy shopping plaza, Mezbaan features an opulent dining room and the longest buffet time: you can order buffet as early as 11am and as late as 3pm. I walked in a shameful 9 minutes before closing, and yet they still quickly rushed fresh, hot naan to my table. Some of the dishes were understandably lukewarm by this time, and meats were a bit dry, but the flavors were good. Particular standouts were the tandoori chicken, chicken dum biryani, goat curry, and butter chicken. However, other dishes tasted oversalted and underspiced. The rice was not good when I went: hard and crusty, this was a poorly-cooked affront to basmati that couldn't be blamed simply on sitting in a steam table.
415 N Mary Ave
Sunnyvale, CA 94085
Phone number (408) 823-5502
Buffet Hours: M-Sat 11am-2:30pm (although website says 2pm, they said they "move the stuff at 2:30"):
Buffet Pricing: $10.99
Quick Bites: The best hole-in-the-wall buffet on this list (as well as the cheapest, along with Taste Buds), Little India Café looks spare and a little bleak inside, but no one is here to examine the décor: they're here for the delectable food. The butter chicken had a good flavor, even if the chicken was a little tough. The naan was soft and fluffy and the gulab jamun soft, a little heavy, and not too sweet. Nothing was super spicy. Everything tasted very fresh, which is particularly important for meat curries.
3. Amber India
4926 El Camino Real
Los Altos, CA 94022
Phone number (650) 968-7511
Buffet Hours: M-Sun. 11:30am-2:30pm
Buffet Pricing: M-F $16.95; Sat.-Sun. $17.95
Quick Bites: Amber India is one of the two fancier Indian buffets on this list (the other being my #1 pick, Sakoon). The restaurant features four locations, with the first opening in Mountain View sixteen years ago. The Mountain View branch moved and reopened in Los Altos several months ago. When I visited the Mountain View location, there was a large range of vegetarian dishes in the buffet and three types of meat curry: butter chicken, chicken tikka masala, and fish curry. All of the dishes had a light-to-medium level of spice, and I could definitely taste that the chicken in the dishes was of good quality, albeit slightly overcooked for the tandoori chicken and butter chicken. The gulab jamun was soft and gooey. I was surprised to see the staff clearing food and dispensing bills before the official buffet closing time, which felt slightly less than hospitable, especially considering that this is the priciest buffet on the list.
2. UlavacharU
685 E El Camino Real
Sunnyvale, CA 94087
(408) 310-3111
Buffet Hours: Fri.-Sun. 11:45am – 2:30pm
Buffet Pricing: $12.95, with higher pricing during certain special holidays and events
Quick Bites: Runner-up UlavacharU is the only restaurant on this list to focus on Andhra-style cuisine, which is a South Indian cuisine native to the Telugu people from the states of Andhra Pradesh and Telangana. Even though the cuisine is "very diverse," it's generally known for its "tangy, hot and spicy taste." At buffet times, UlavacharU can feel like a boisterous, hectic family party. It features one of the largest buffet selections I've seen, and is overall the spiciest buffet I tried. I saw unusual specialties like pongal (a thick rice-daal porridge) and gobi Manchurian (battered and fried cauliflower coated in a tangy sauce). I loved the buffet dishes' textural contrasts, complex and intense spicing, and interesting range of flavors. I've also eaten off the regular menu at UlavacharU, and my main complaint (with respect to both the buffet and the regular menu) is for the kitchen to generally dial down the salt on the meat dishes.
1. Sakoon
357 Castro St
Mountain View, CA 94041
(650) 965-2000
Buffet Hours: M-F 11:30am – 2:30pm, Sat.-Sun. 12-3pm
Buffet Pricing: M-F $13.95, Sat.-Sun. $14.95
Quick Bites: The winner!! With its upscale interior and plethora of food options for vegetarian and meat lovers alike, Sakoon is the buffet to take your date, coworkers, or picky family members. I'll be honest—I was skeptical of Sakoon when I walked in the door, nervous that the restaurant would focus more on providing an elegant dining experience than a delicious one. But my worries were unfounded. The selections were plentiful and across-the-board well-cooked and well-seasoned, with safe favorites (butter chicken, saag paneer) as well as specialties I didn't see elsewhere, like egg curry and bread pakora. Service was prompt, cheerful, and flexible, and dishes were hot even at the end of buffet service. On a separate occasion, I visited the weekend buffet, which I found to be better: I suspect because there's a larger crowd on the weekends, there's more food turnover and fresh batches of curries constantly being brought out. For example: my weekend naan was faultless, but my weekday naan was tough and doughy. Another example: my weekend gulab jamun was light as air and stuffed with interesting and delectable fillings like sweet carrots, while I got a few tough and chewy gulab jamuns at the weekday buffet. But, all in all, in a field of very strong contenders, Sakoon's weekday and weekend buffets are close to perfection.
After my Indian Buffet Adventures, and after I moved back to Los Angeles, I found myself frequently missing and craving Indian food. I decided that the best option was to cook it myself at home. Over the course of the next few days, I will share my favorite recipes for butter chicken, saag paneer, and naan, with a hearty helping of gulab jamun for dessert. But first, let's talk masala.
Masala (as in, "chicken tikka masala") refers generally to any spice mix that is used in Indian cuisine. There are all different kinds of masalas for different dishes, from basic curry powder to garam masala (meaning "hot spices" in Hindi) to chaat masala (a salty/tangy spice blend for Indian snack dishes) to chai tea masala (which you can mix with black tea for homemade chai!). Reading a bunch of masala recipes started feeling overwhelming until I thought about the American equivalent of masala: Lawry's seasoned salt, Fiesta pinto bean seasoning, Creole gumbo seasoning, etc.
Just as with our American pinto bean seasoning, Indian masalas can be found prepackaged in grocery stores or online. But the similarities end there. While I've never considered toasting and grinding chili peppers to make my own pinto bean seasoning, many Indian recipes recommend making homemade masalas. (Home cooks often have their own secret spice blends.) This process requires starting with whole spices, crushing or grinding the spices before mixing them in prescribed amounts, and then toasting them to amplify their flavor . Making your own spice blends can be time-consuming and initially pricey (I had to buy large quantities of the constituent spices), but the payoff in flavor is well worth the hassle, especially if you are planning on making other masalas. Every time I open my precious bag of homemade garam masala to measure out a spoonful for a dish, I inhale deeply and grudgingly admit to myself that making the garam masala was time well spent.
Again, please check in over the next few days for my recipes for butter chicken, saag paneer, naan, and gulab jamun. The garam masala will play a foundational role in the savory dishes, so I'd recommend assembling it now.
Thanks for reading, and happy cooking!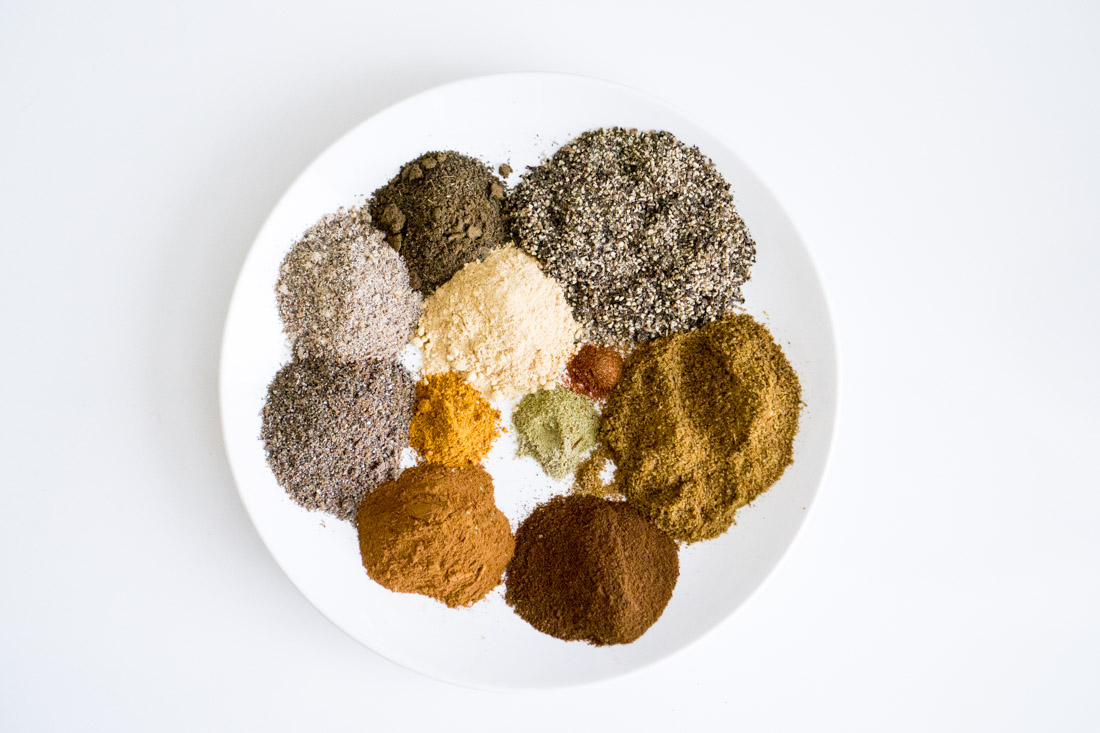 Garam Masala (Mughlai-Style)
This garam masala works perfectly in the tandoori foods and cream sauces of Mughlai Indian cuisine. A basic recipe for garam masala might call for only five ingredients; this complex Mughlai version is extra-fragrant with mace and nutmeg.
Ingredients
1

Tbsp.

saffron threads

1/4

cup

freshly-ground black pepper

1/4

cup

plus 2 Tbsp. cumin seeds

2

Tbsp.

ground cinnamon

2

Tbsp.

ground cloves

2

Tbsp.

ground green cardamom seeds

2

Tbsp.

ground black cardamom seeds

2

Tbsp.

ground ginger

1

Tbsp.

ground bay leaves

1

tsp.

ground mace

1

tsp.

ground nutmeg
Instructions
Lightly toast the saffron threads in a dry medium nonstick skillet for 2 minutes. Set aside to cool for 10 minutes, and then grind using a mortar and pestle or crush between your fingertips until you obtain desired amount.

Place all spices in skillet and stir and shake the pan over medium heat until heated through, about 2 minutes. Let cool, then store in an airtight container. This spice mix will keep for about 1 month at room temperature in a cool, dark place, or about 1 year in the refrigerator or freezer.
Notes
If possible, grind the spices from whole spices just before assembling the spice mixture.
To grind green and black cardamom: place cardamom between sheets of paper towels and roll rolling pin or metal dowel over them, applying heavy pressure, until the shells crack. Extract the tiny seeds inside and grind until you have the desired amount.
Adapted from 1,000 Indian Recipes by Neelam Batra