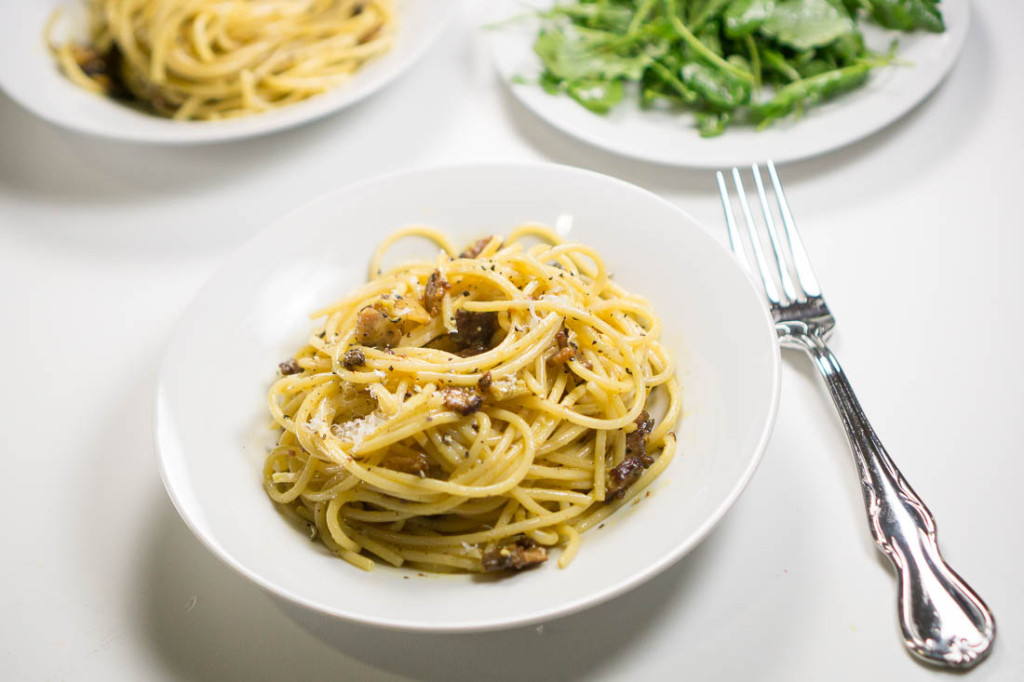 After the crazy hustle and bustle of the winter holidays, it's hard to motivate to cook very much. My stomach is still roiling from a potent combination of cookies, cakes, and other rich festive foods. My house is still much more of a mess than usual (though it's always a mess), and our family members have staked out strategic napping positions on the gift wrap-littered couches — my husband stretches out on the long couch, and I curl up with my dog on the knobby convertible couch. It's actually cold this year (a rarity in Los Angeles in recent years) so we've set a fire to roaring in the gas fireplace. At least one of is probably dozing off atop some combination of unfolded laundry, stray ribbon, and cookie crumbs. When we wake up hungry, neither of us is in any mood to fuss too much over a hot stove.
Which is why this recipe for Spaghetti alla Carbonara, by the brilliant Gabrielle Hamilton of Prune restaurant in NYC, is so perfect for this particular moment: the dish is simple, quick to throw together, and, if made according to our tastes, not oversauced or heavy. (As Gabrielle charmingly explains in her instructions: "Don't 'creamy up' the yolk and parm with extra hot pasta water or extra cheese or by adding the cheese early so it melts — sometimes I have been dismayed to see it go out looking like creamy white pasta alfredo.")
My husband proclaims that spaghetti alla carbonara is his favorite pasta dish, and that this particular recipe is the perfect iteration of his favorite dish. While I've never been a huge carbonara person, I finally understood the source of his passionate declarations after tasting Gabrielle Hamilton's version. While Hamilton's recipe calls for pancetta (an unsmoked Italian bacon), I used regular thick-sliced bacon because it was substantially cheaper and much more readily accessible. (I've used pancetta in the past for this recipe, but I honestly don't think it makes a huge difference. And if no less an authority than Marcella Hazan is okay with it, then I'm not gonna stress about it too much, especially when it tastes delicious.)
The pasta tastes at once clean and substantial, just rich enough from the egg yolks and pancetta fat (or bacon fat) thinly slicking the strands of spaghetti. Parmigiano-Reggiano and pancetta/bacon never take center stage; along with freshly-ground black pepper, the cheese and cured meat merely serve as notes in the overall dish. Because there are so few ingredients, the quality of each one is important: use a good dried spaghetti (I really like DeCecco, which is widely available), and real Parmigiano-Reggiano.
For our post-holiday meal, I served the spaghetti with an arugula salad, lightly dressed with a good olive oil, balsamic, more pepper, salt, and a pinch of sugar. It was a very good post-holiday meal, allowing us to recover from overindulgence with some additional overindulgence. With the exception of marathon runners, I doubt that anyone has ever said that pasta with egg yolks, bacon, and cheese was a health food, but maybe this is the rich-food equivalent of hair of the dog.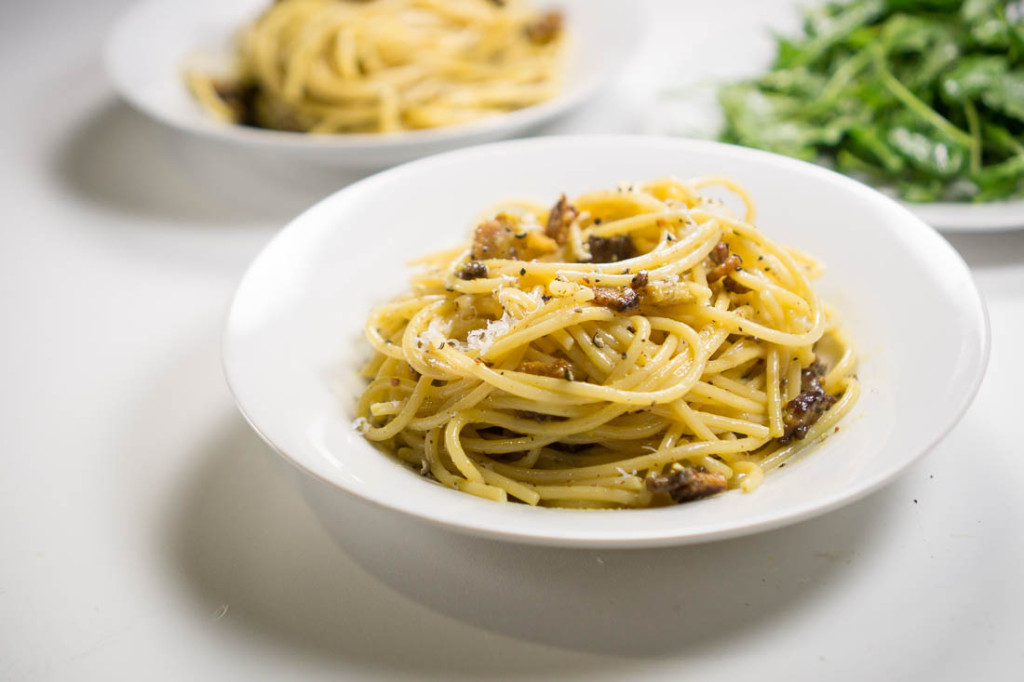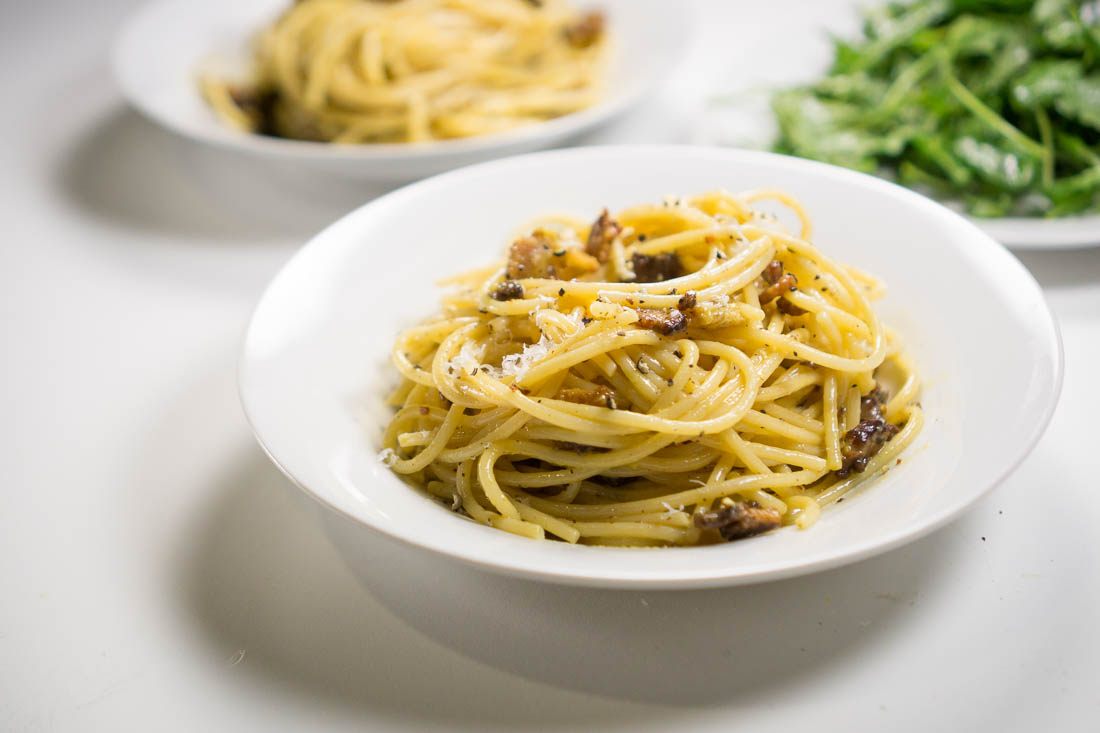 Happy carbonara eating!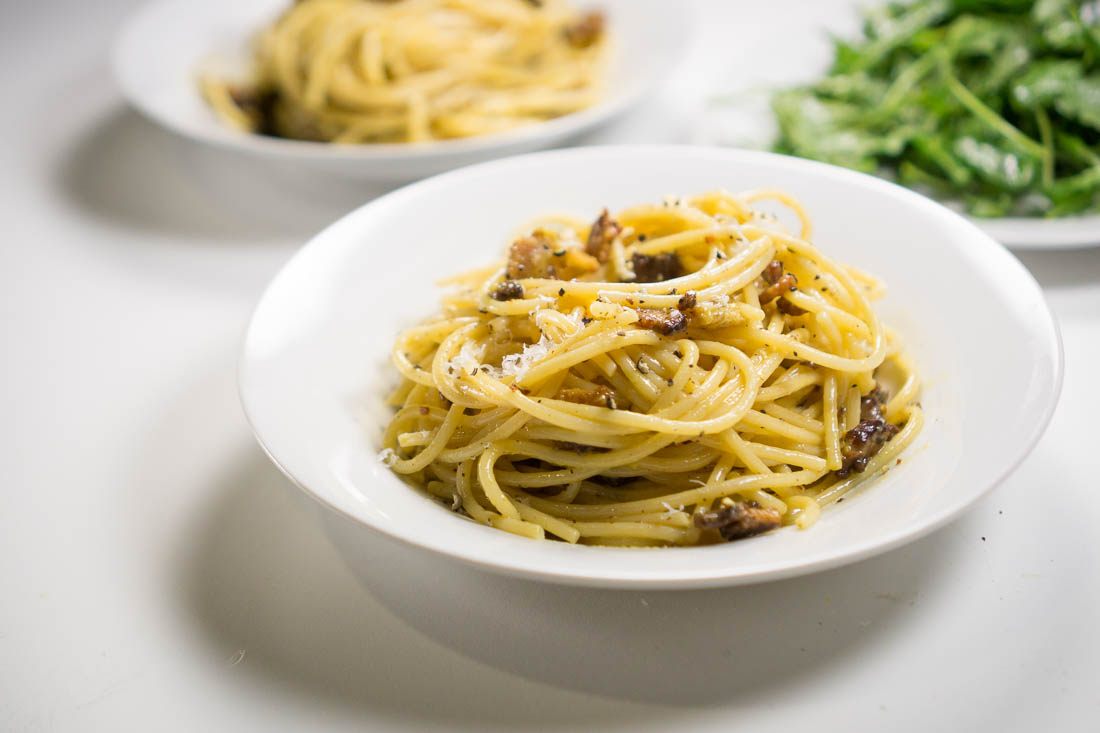 Spaghetti alla Carbonara
Adapted from Prune, by Gabrielle Hamilton
Ingredients
2.5

oz.

pancetta or bacon

cut into 0.5-inch cubes

4

oz.

dried spaghetti

2

egg yolks

0.25

cups

grated Parmigiano-Reggiano

1

tsp.

freshly ground black pepper

Salt
Instructions
Evenly scatter cubed raw pancetta or bacon into a skillet (cast iron, if you have one) over medium-low heat. Render slowly, stirring occasionally until crisp and golden on all sides and sitting in significant amounts of its own rendered fat, and cubes reduced in size by half. Transfer pancetta/bacon to a small heat-proof bowl.

In large bowl, place egg yolks and a hearty spoonful of rendered pancetta/bacon and some of its fat. Sprinkle black pepper over the egg and fatty pancetta/bacon until light dusting obscures the yolks.

Cook spaghetti just until al dente in a big stockpot of boiling salted water, stirring during cooking to ensure that strands are separated. Immediately pull hot pasta with tongs, drain briefly over pot, turn out into the bowl of yolks and pancetta/bacon, letting some of the starchy pasta cooking water drip in along with the pasta.

Stir rapidly and vigorously to cook yolks with the residual heat of the pasta and to coat each strand with egg and cured pork fat.

Season with salt and generous sprinkle of grated Parmigiano-Reggiano and continue stirring to evenly distribute cheese and salt.

Make neat spiral in center of pasta bowl as best as you can when plating.
Notes
My favorite notes from Gabrielle Hamilton (both beautifully-written and helpful in capturing the essence of the dish):
"Don't 'creamy up' the yolk and parm with extra hot pasta water or extra cheese or by adding the cheese early so it melts" - it should not "go out looking like creamy white pasta alfredo."
"Ideally, we want the strands slick with yellow, eggy egg yolk and smoky, salty, uriney pancetta fat, with all the granules of sweet, nutty grated parm clinging to the strands. You want to see the black pepper, taste the floralness of it, and feel the warm heat of it in the dish--but don't obliterate."