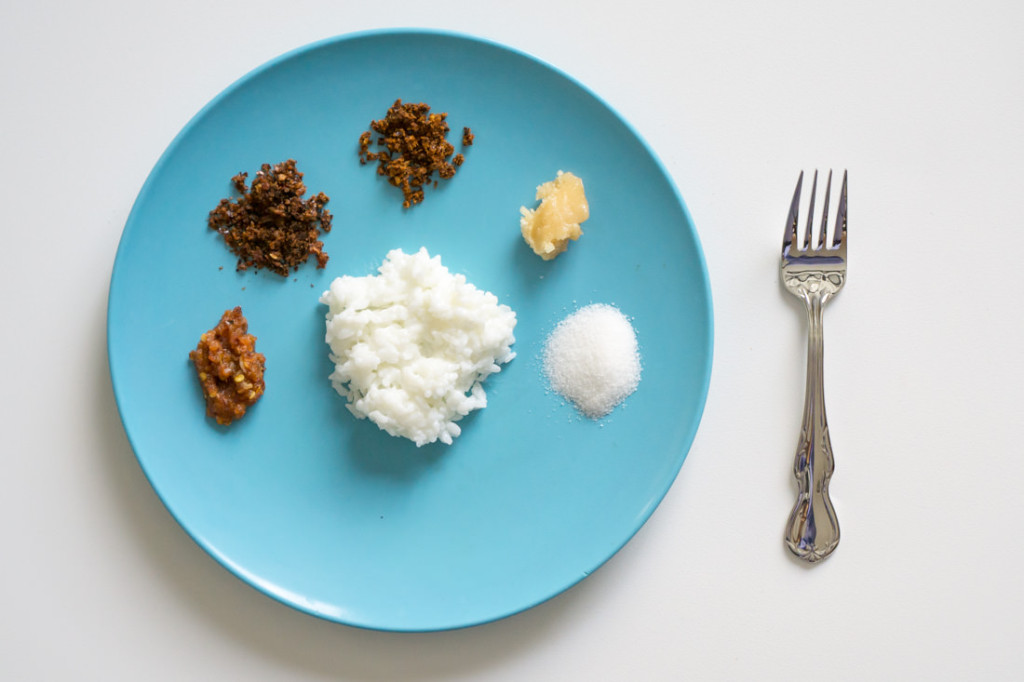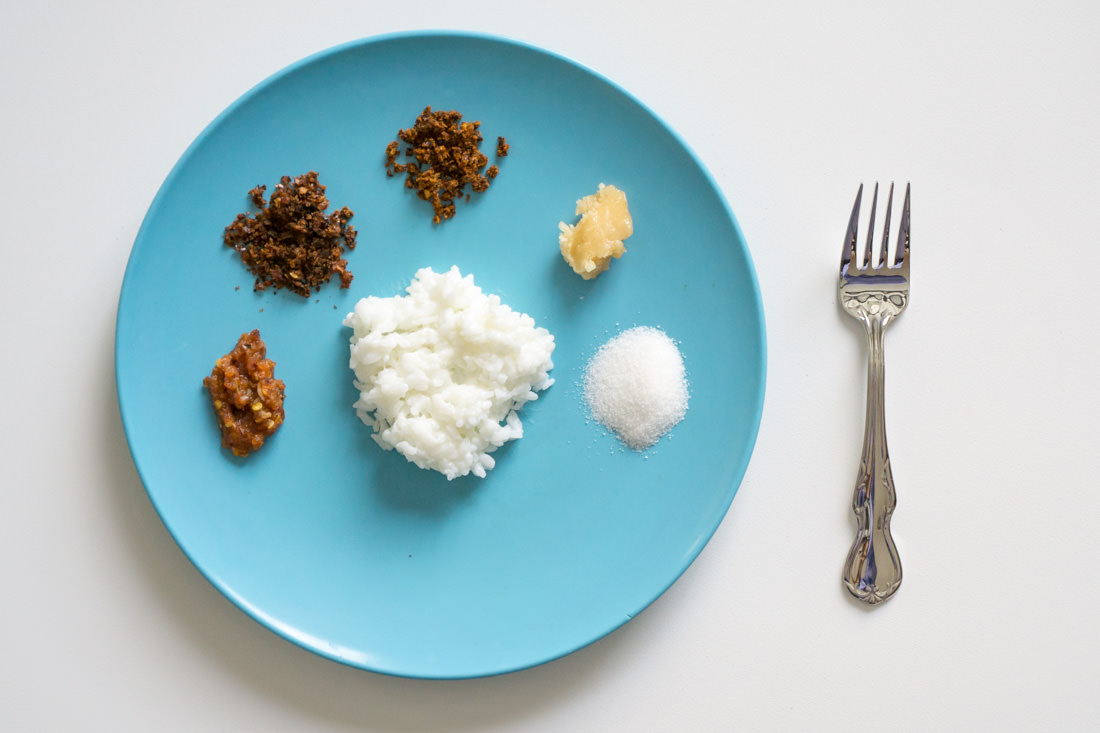 "I don't make this dish the correct way," my father-in-law mused to me as I stood by the stove, watching him vigorously stir the milk rice.
"What do you mean?" I responded, confused. I had only ever eaten his version of kiribath — Sri Lankan milk rice — so I was unable to visualize any other way in which it could be prepared. His rendition seemed plenty tasty to me. A mellow, milky, unseasoned rice pudding, my father-in-law's version of the dish is utterly comforting and a nice way to start the day.
Kiribath is considered an auspicious food to consume during important events like birthdays, the new year, and weddings. (The morning of my wedding, I ate a scoop of kiribath.) In the mornings, a spoonful of kiribath, cold or at room temperature, accompanied by a dab of maldive fish sambol (a mixture of onions, chilis, and dried maldive fish, ground into a paste), Zensai chilli paste, and a spoonful of sugar is a delicious light breakfast. Jarred Sri Lankan sambols, dry and crunchy, are delicious here. I take a bit of kiribath, dip it in one or multiple chili pastes, and end by dipping my fork's tines in the sugar, which readily adheres to the rice-sticky fork. The bland, milky rice serves as a great foil for the chili pastes, and the sugar adds an extra interesting, crunchy tweak at the end.
Philosophically, kiribath seems most similar to Chinese congee: it's a plain rice dish that you can eat for breakfast and to which you can add whatever you'd like. If you're more of a sweet breakfast kind of person, you even can replace the chili pastes with bananas and jaggery (a fragrant brown palm sugar). You can even have all options on one plate, if you can't decide. It's fun to eat — a dab here, a dab there, and then breakfast is done.
When I decided to try my hand at making kiribath, I noticed that most of the recipes in my Sri Lankan cookbooks and online specified the use of coconut milk in the porridge. Although my in-laws use cow's milk for their kiribath, I was intrigued by a version with coconut milk. "Have you ever had kiribath with coconut milk?" I asked my husband. "It sounds like it would be delicious!" "Trust me — it won't be as good as you think it is," my husband responded. Undeterred, I bought a bag of rice, a can of coconut milk, a quart of cow's milk, and decided to do a kiribath recipe comparison.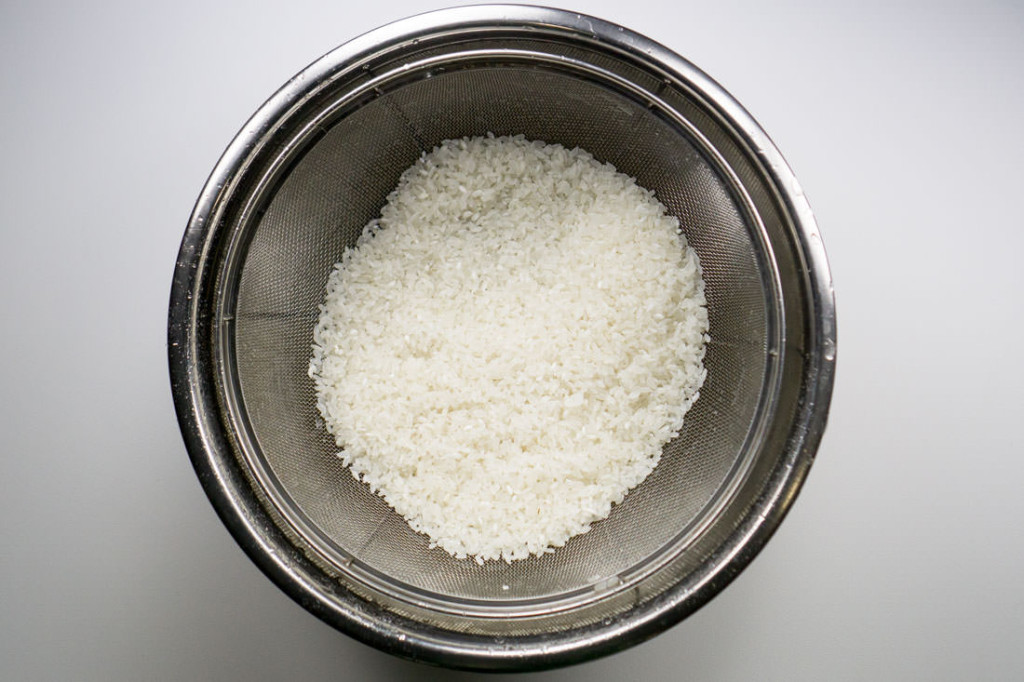 Things quickly went awry. What should have been a 20-minute recipe (according to the particular cookbook I was consulting) turned into nearly an hour-long fiasco. The recipe called for far too little water, far too much salt, and the coconut milk version tasted greasy and heavy. I started panicking and called my husband over. "I told you," he said with aggravating calmness. "Normal recipes for kiribath are really heavy and really dry." Argh! I wanted to wipe the all-knowing grin off his face, but I was too busy running back and forth from the sink fetching extra water for the overly-dry batches of kiribath.
The end results were disappointing. I had two glass pie pans filled with an enormous amount of overly salty, overly creamy rice porridge. My stomach was feeling uncomfortably full from all the taste-testing — but worse, it was feeling dissatisfied.
It was then I decided to ignore the recipes and start over. I used more water, no coconut milk, and no salt. The end result more closely approximated the clean-tasting kiribath made by my father-in-law than the solid, dense versions of the "traditional" recipes. I then quickly made a batch of lunu miris (also called katta sambol), a condiment made with Maldive fish (a dried, cured tuna) that is often served alongside kiribath. Because my local South Asian grocer had run out of Maldive fish, I had to substitute dried prawns: not quite as fragrant, but they'll work in a pinch.
So, I guess I don't make kiribath in the correct way, either. But this version is soft, mellow, and delicious. And because it's got the stamp of approval of the most important Sri Lankan in my life, that's good enough for me.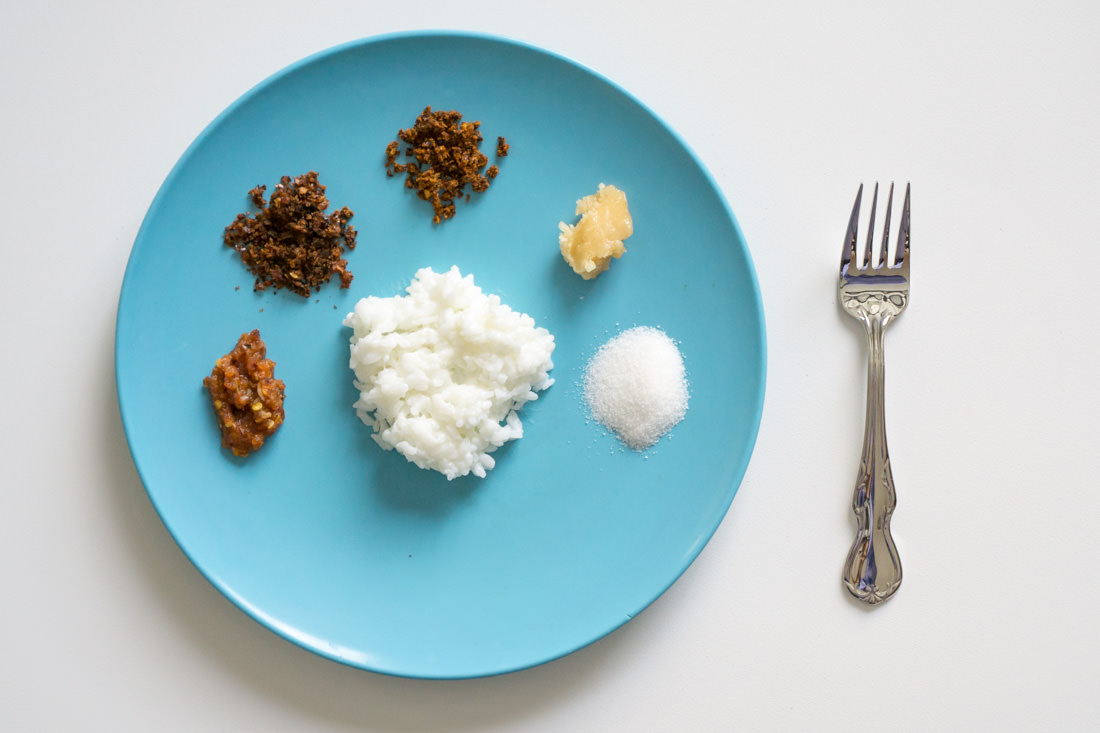 Kiribath (Sri Lankan Milk Rice)
Lunu Miris recipe adapted from Rice & Curry: Sri Lankan Home Cooking by S. H. Fernando Jr
Ingredients
FOR THE KIRIBATH (Sri Lankan Milk Rice):
1

cup

white rice

2-2.5

cups

water

1

cup

milk
FOR THE LUNU MIRIS (spicy onion-fish condiment):
1

red onion

peeled and cut into chunks

1

Tbsp.

dried Maldive fish chips or 2-3 Tbsp. dried shrimp

if Maldive fish is not available

4

Tbsp.

red chili flakes

Juice of 1 lime

Salt to taste
Instructions
FOR THE KIRIBATH (Sri Lankan Milk Rice):
Wash rice and place in 3-5 quart pot.

Add water, bring to a boil, reduce heat and simmer for 10 minutes.

Add milk and stir well.

Cook on low heat for 15 minutes or until rice is cooked but not soggy.

Pour rice mixture into a casserole dish or square cake pan and smooth top. Let cool completely before serving.
FOR THE LUNU MIRIS (spicy onion-fish condiment):
Place onion chunks in food processor bowl. Pulse until onion is roughly chopped. Add Maldive fish or dried shrimp, red chili flakes, lime juice, and salt to taste. Pulse just until combined. Taste and add additional Maldive fish/dried shrimp, chili flakes, lime juice, or salt if you so desire.
Notes
Maldive fish can be hard to find -- ask your local Indian grocer, if you have one nearby, or look online. Dried shrimp can serve as an adequate substitute.