For more than twenty years now — since I was twelve years old — I've been curious about an obscure Italian cookie that I've never seen or tasted. Like many eccentric adults, I've always been a bit odd. By the age of thirteen, I had amassed a kick-ass collection of vintage cookbooks with titles like "Cooking from Quilt Country," "The New Cookbook for Poor Poets," and "Helen Gurley Brown's Single Girl Cookbook." When not at the library checking out more cookbooks, I would spend hours painstakingly clipping intriguing columns and recipes out of the Los Angeles Times' Food section and gluing them into dog-eared spiral-bound notebooks that contained my old pre-algebra notes. (Think of this as a cross between scrapbooking and Pinterest.)
I especially loved the recipes that were accompanied by an engrossing story. My mother is a good cook, but rarely made anything beyond Taiwanese or basic American food, and had an aversion to certain delicious ingredients — like bacon, and salt. Prego-covered soft spaghetti and lightly stir-fried potato sticks represent some of the fondest food memories I have from childhood. Cookbooks and food articles were one way I could see the world beyond my mother's suburban kitchen. And one of the best storytellers that entertained me over the years was Russ Parsons.
Which is why I was saddened to hear that Russ was taking a buyout and leaving the LA Times this year. (His last day was the day before Thanksgiving.) To me, Russ WAS the Times. Russ coached us through cooking crepes in a home kitchen. He successfully roasted a leg of lamb at 425 degrees, as documented in an article that I avidly consumed because I hadn't ever tasted a leg of lamb when I read the article at the age of 16, much less contemplated roasting one. But the column that really stuck in my brain, ever since I read it as a seventh-grader, was Russ's article on breakfast cookies.
The main gist of the article was that during a trip to Florence, Russ and his wife wandered into a bakery where, on a whim, he bought some cookies that he had never seen before or since. Labeled rustiche, the cookies were "tough little cookie-cakes" filled with dried fruit and nuts, and sustained Russ throughout the rest of his Italian adventures. A year later, he happened upon a fragment of a rustiche cookie in a coat pocket, and immediately popped it into his mouth — incredibly, still good. He spent a long time trying to track down a recipe for rustiche, but ultimately was only able to find a richer, sweeter, softer cousin of rustiche called pane del pescatore.
I finished the article feeling deflated at not being able to make rustiche, but also intrigued by the mystery of it all. Russ's description of the cookies and the fun of finding them still edible a year later really fascinated me. Moreover, my parents raised me on austere Taiwanese snacks — crunchy, nut-packed nougat and oblongs of barely-sweetened shortbread were a mainstay in our household, while chocolate chip cookies were scarce — so I learned to crave sweets that were on the savory side. Rustiche sounded right up my alley.
Around that time, I was baking my way through the amazing Maida Heatter's books, and I discovered her wonderful recipe for Honey Biscotti, spicy with white pepper and ginger. Over the years, whenever I baked the Honey Biscotti and tried to gnaw through a particularly crunchy piece, I would sometimes be reminded of the mystery of the rustiche cookie.
But I never really tried to try to solve the rustiche mystery until recently, when I learned about Russ's retirement from the Times. I was determined to find the recipe. I quickly learned that recipe-searching in the post-Internet era is (obviously) so much easier than it was during the microfiche days, but if the recipe has not been posted online, you're out of luck. For example, I got the brilliant idea of searching Instagram for #rustiche. However, this strategy uncovered mostly photos of crinkle-cut potato chips. #instagramfail
After endless Google searches using the Italian translation function, I narrowed down my search to a couple of different Tuscan recipes: ciambelline rustiche, a donut-shaped cookie that is commonly dunked in wine but that seemed too refined for what Russ had described, and cavallucci di siena, a Christmas cookie that sounded far too sweet and soft to be rustiche. And I could have sworn, based on his description of the tough, hard texture of the rustiche, that it sounded like biscotti…but Russ's description of "little nondescript mounds of dough" meant that the traditional sliced biscotti was not what he ate.
So I closed my browser and threw in the towel. As Russ did, I stopped trying to find rustiche. Instead, I tried to recreate what Russ's description of the rustiche evoked to me. I based my own version of the mythical rustiche cookie on that favorite biscotti recipe, adding candied orange and lemon peel, raisins, and fennel seed, and dropping the balls of sticky batter onto a cookie sheet.
Because I wanted organic candied peels, I decided to make my own. I made quick work out of separating the peels from the oranges and lemons by first scoring them into quarters. I then removed some of the bitter white pith by scraping it out with a spoon.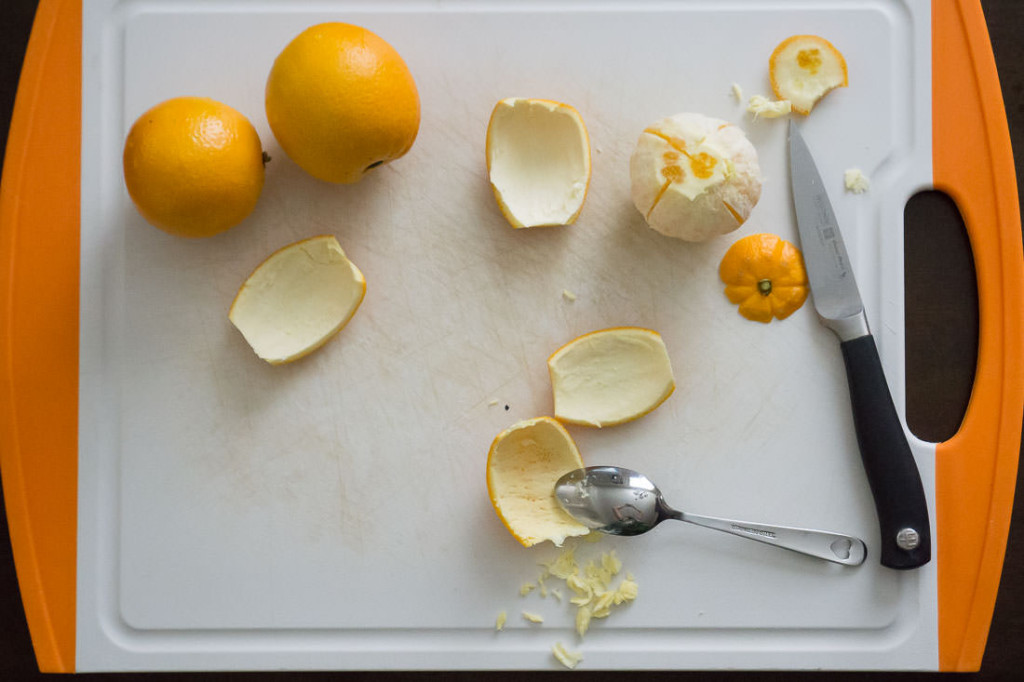 When the spoon proved to do more damage to the peel than I would have liked, I used the paring knife to carefully slice off the pith, keeping the knife blade almost parallel to the cutting board, going very slowly, and making sure that my fingers were out of the way.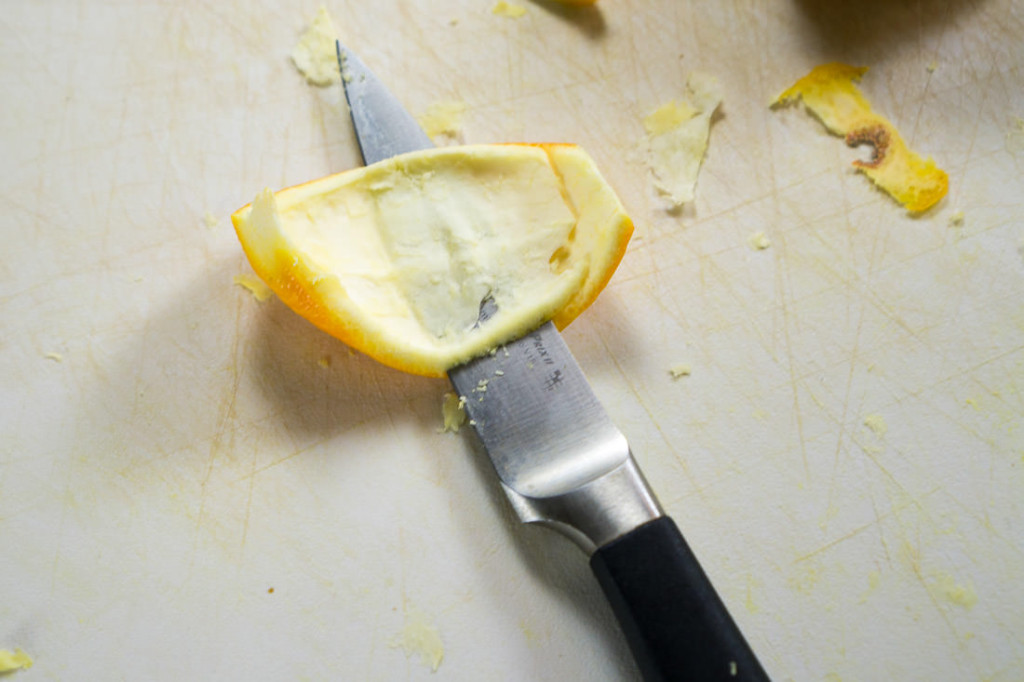 Then, I boiled the peels in several changes of water and let them cool off a bit before I sliced them into 1/4-inch thick strips.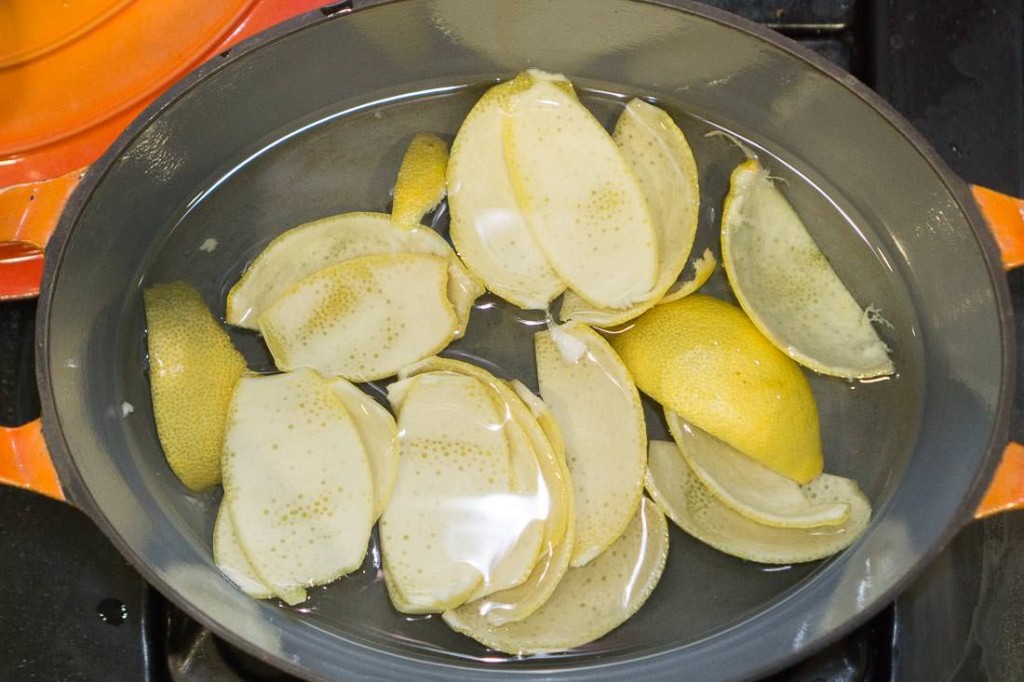 I boiled a simple sugar syrup until it reached 230 degrees F on a candy thermometer and cooked the peels for 10 minutes before I removed them to baking sheets.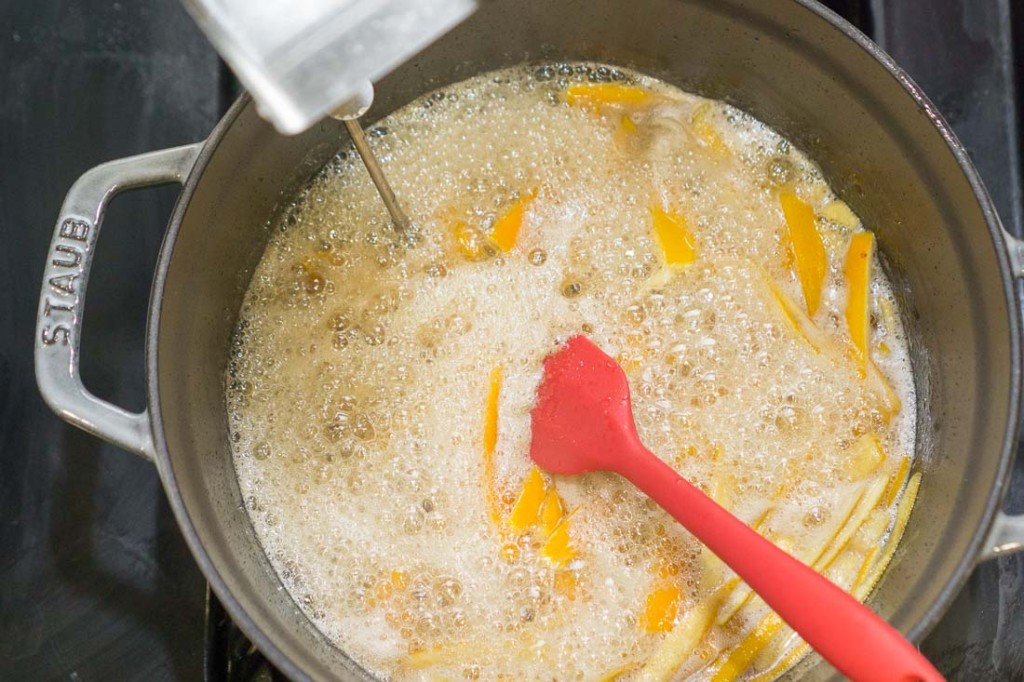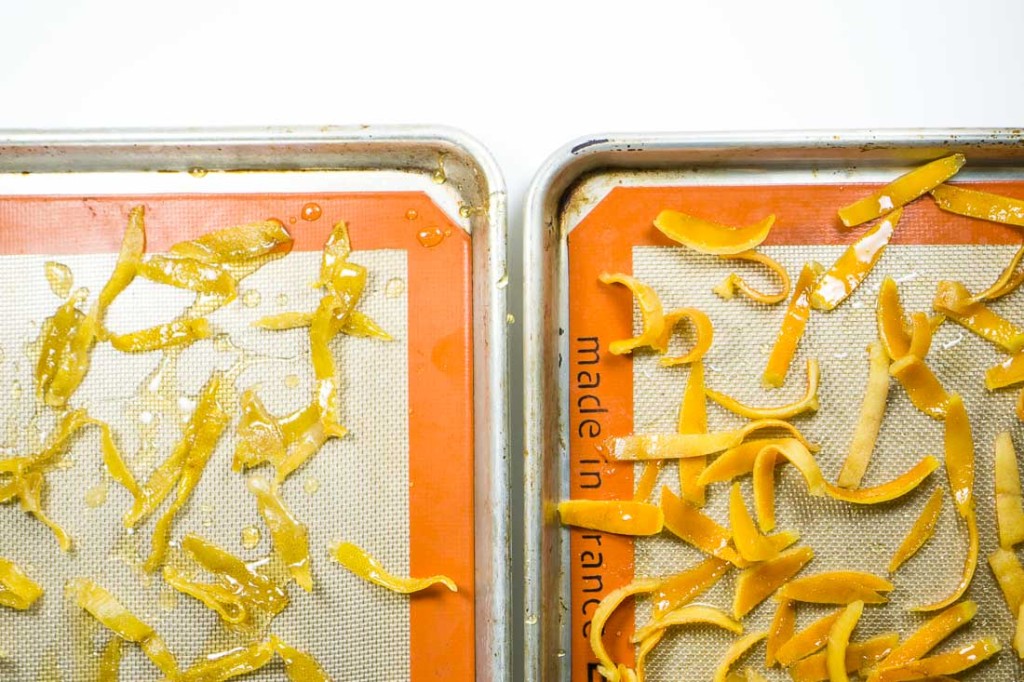 After I let the peels dry out at room temperature for about 5 hours, I tossed them in granulated sugar, shaking off the excess.
Next, I mixed up the biscotti batter, dividing it into two bowls. To half the batter, I added Italian ingredients (the candied peels, along with crushed fennel seeds and raisins), and to the other half of the batter, I added a less-traditional mix of quick-candied apricots, dried cherries, candied ginger, and a little of the candied orange peel.
I baked the cookies at 300 degrees for an hour. You can shorten the cooking temperature to 45 minutes if you'd prefer a softer cookie. But I share Russ's philosophy and tastebuds on this front – I love a cookie that is not-too-sweet and can be dunked into your morning cappuccino or tea. In fact, I prefer to bake the cookie for an additional 20 minutes at 275 degrees in order to fully dry it out, maximizing crispness (and also, of course, the possibility that they'll break your teeth).
So, these are my rustiche, fragrant with candied peel and perfect for the holidays. I decided to undertake this project as my very belated way of saying a huge thank you to Russ Parsons. Thank you for educating me, as a young Taiwanese-American-Angeleno girl, about the many exciting food possibilities beyond suburbia, and for contributing to my lifelong love of interesting food and compelling, evocative food writing. We, your loyal readers, are excited to see what you will choose as your next adventure.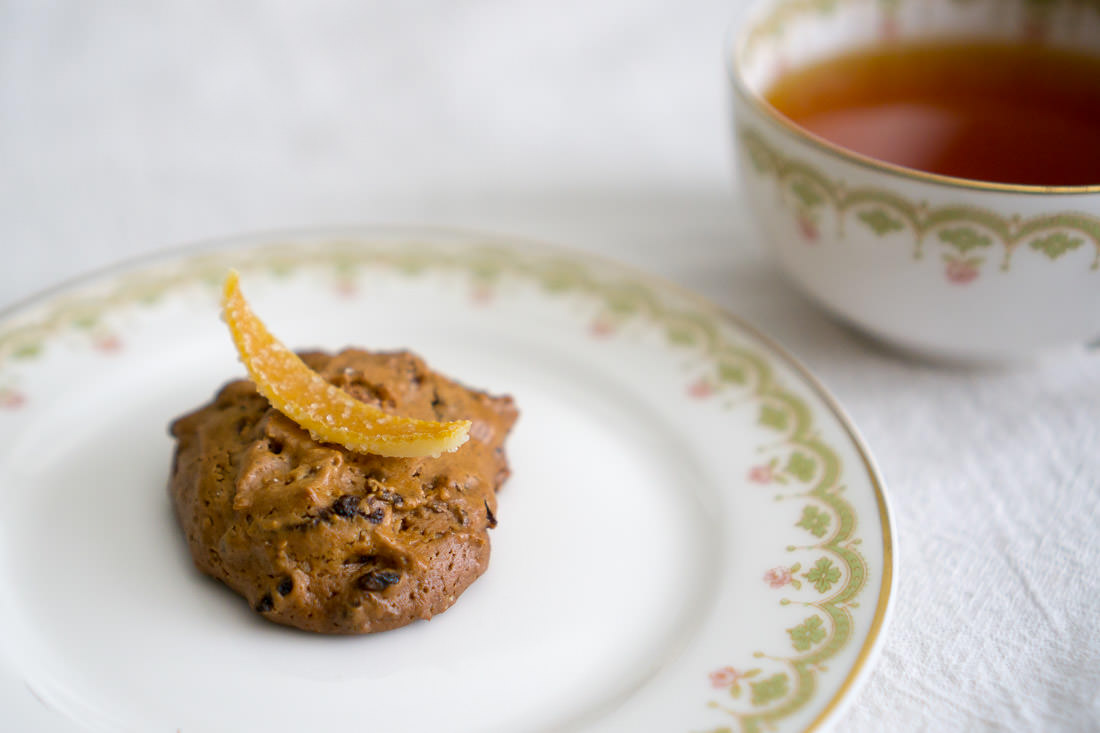 Rustiche Biscotti Cookies
This festive, fruity, orange-scented cookie is designed to be baked until hard and dry, and eaten dipped in coffee or tea.
Ingredients
1.5

cups

whole unblanched almonds

3

eggs

1/2

cup

mild honey

1/2

teaspoon

almond extract

3

cups

plus 1 tablespoon sifted unbleached flour

1.5

teaspoons

non-aluminum baking powder

such as Rumford or Argo

1/4

teaspoon

salt

1/3

cup

sugar
Italian Candied Fruit Mixture:
1/4

cup

chopped Candied Orange Peel

see recipe below

1/4

cup

chopped Candied Lemon Peel

see recipe below

3/4

cup

raisins

3

tsp.

coarsely ground fennel seeds

grind in a spice or coffee grinder
VARIATION: Apricot-Cherry Fruit Mixture:
1/2

cup

sweetened dried cherries

chop coarsely before measuring if your cherries are very large

1/2

cup

chopped Quick Candied Apricots

see recipe below

1/4

cup

diced candied ginger

2

Tbsp.

Candied Orange Peel

see recipe, chopped

1 1/4

teaspoons

finely ground white pepper

1 1/4

teaspoons

ground ginger
Instructions
FOR ITALIAN CANDIED-FRUIT RUSTICHE:
Preheat the oven to 375 degrees and bake the almonds in a wide, shallow pan, stirring once for 13 minutes. Set aside to cool. Chop coarsely.

Adjust 2 racks to divide the oven into thirds and reduce the oven temperature to 300 degrees. Line two 12-by-15 1/2-inch cookie sheets with aluminum foil (shiny-side-up), Silpat silicone sheets, or parchment paper.

In a small bowl beat the eggs with the honey and the vanilla and almond extracts, mixing well, and set aside. Into the large bowl of an electric mixer sift together the flour, baking powder, salt, sugar. Add the beaten egg mixture all at once to the dry ingredients and beat on low speed, scraping the bowl as necessary with a rubber spatula until the mixture holds together. Slowly beat in the nuts and the Italian Candied Fruit Mixture. The mixture will be thick, gooey and rubbery.

Drop heaping tablespoonfuls of the mixture onto the two baking sheets, at least 1-inch apart. The mixture will spread only slightly during baking.

Bake the cookies in the preheated oven 45 minutes, reversing the sheets top to bottom and front to back once during the baking to ensure even browning. This will make for a hard cookie that still yields slightly to the bite. For a harder cookie that's designed for dipping into coffee or tea, bake for an additional 15 minutes (for a total of 60 minutes). Watch out - you might chip a tooth on these if you try to crunch through them like regular cookies! And for an even crunchier, harder cookie, lower the oven temperature to 275 degrees after the 60-minute baking, and bake for an additional 15 minutes at 275 degrees (for a total of 1 hour and 15 minutes baking time).

For the Candied Orange Peel and Candied Lemon Peel: Wash 6-8 organic navel oranges and 5 organic lemons. Remove the peel by cutting off the stem and opposite ends of the fruit and scoring the fruit into quarters with a small knife, as shown in

this post

. (Set aside the fruit inside the peels and eat or use in another recipe.) Scrape off some of the white pith inside the peels with a small sharp spoon or a small knife. Place the scraped orange peels in a 3-4 qt. pot and fill with water to cover. Bring the peels to a boil and boil for 5 minutes. Drain. Cover the orange peels with water and boil for 5 minutes as before, then drain and remove the orange peels to a cutting board to cool. Repeat the boiling process with the lemon peels, but boil the lemon peels one more time (for a total of three times). Slice the orange and lemon peels 1/4 inch thick (again keeping peels in two separate piles if you don't want to cook them together). In a 3-4 qt. pot, combine 1 cup of water with 2 cups sugar. Stir mixture until dissolved, and bring to a boil and cook until mixture reaches thread stage, about 230 degrees F on a candy thermometer. Stir in orange peel and lower the heat; cook for 10 minutes, stirring frequently. Remove the peels from the sugar mixture and let cool on a cookie sheet lined with parchment, separating the peels so they don't stick together. Bring the sugar mixture back to 230 degrees F and stir in the lemon peels. Lower the temperature and cook the lemon peels for 10 minutes, then remove to another parchment-lined cookie sheet. Let the peels dry for about 24 hours and then toss in about 1/2 cup granulated sugar until lightly coated. (If you need to use the peels for baking sooner than the 24 hours, you can let the peels dry for at least 5 hours and then toss in sugar.)
FOR VARIATION: APRICOT-CHERRY RUSTICHE COOKIES
In step 3 under "Instructions," replace the Italian Candied Fruit Mixture with the Apricot-Cherry Fruit Mixture. Prepare the rest of the recipe as directed.

For the Quick Candied Apricots (based on the recipe at

this link

): In a small saucepan over medium heat, whisk 5 Tbsp. water, 3 Tbsp. honey, 3 Tbsp. sugar, and 2 Tbsp. lemon juice until dissolved, then stir in 1/4 lb. dried apricots. Reduce heat to a simmer, cover, and let simmer for 10 minutes. Check once or twice: if there's not enough liquid, add another tablespoon or two of water. Remove cover, raise heat to medium, and cook apricots until syrup is further reduced and has turned into a glaze. Remove saucepan from heat, and remove the apricots to a parchment-lined cookie sheet and let cool.
Notes
Adapted from Maida Heatter's Best Dessert Book Ever