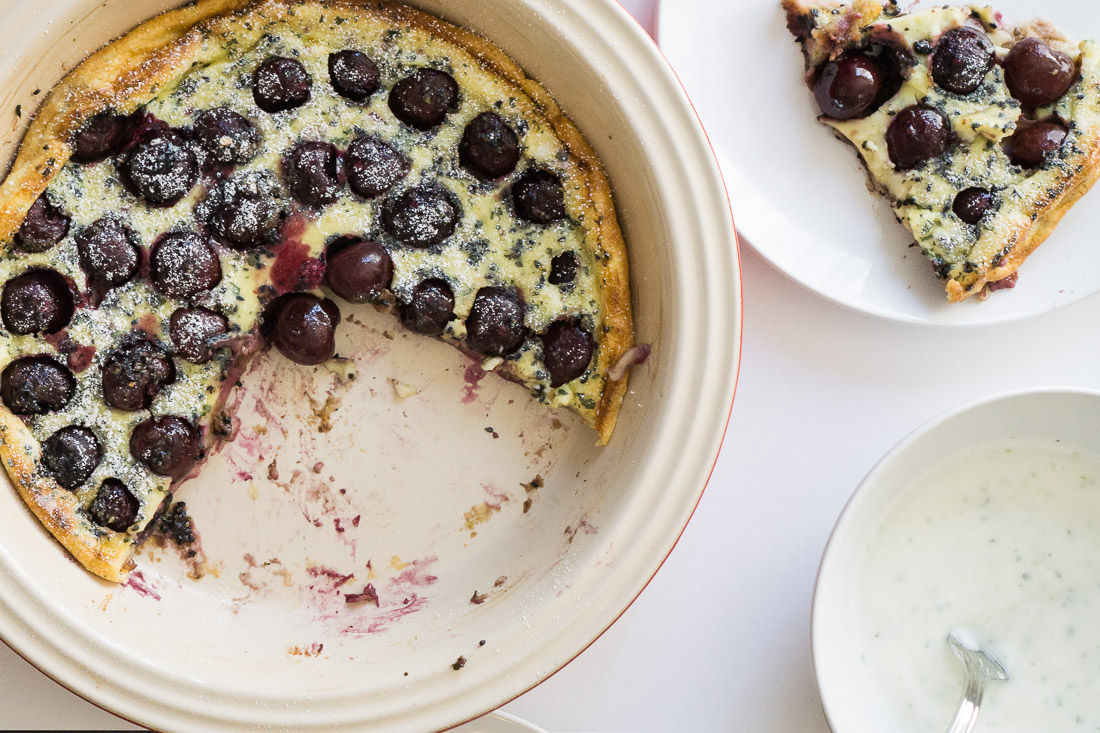 Eating at State Bird Provisions, the San Francisco restaurant that is possibly one of my favorite restaurants on the planet right now, inspired me to create a summery Cherry Clafoutis with an unusual but delectable trifecta of Japanese ingredients: fresh shiso leaf, kinako, and roasted black sesame seed.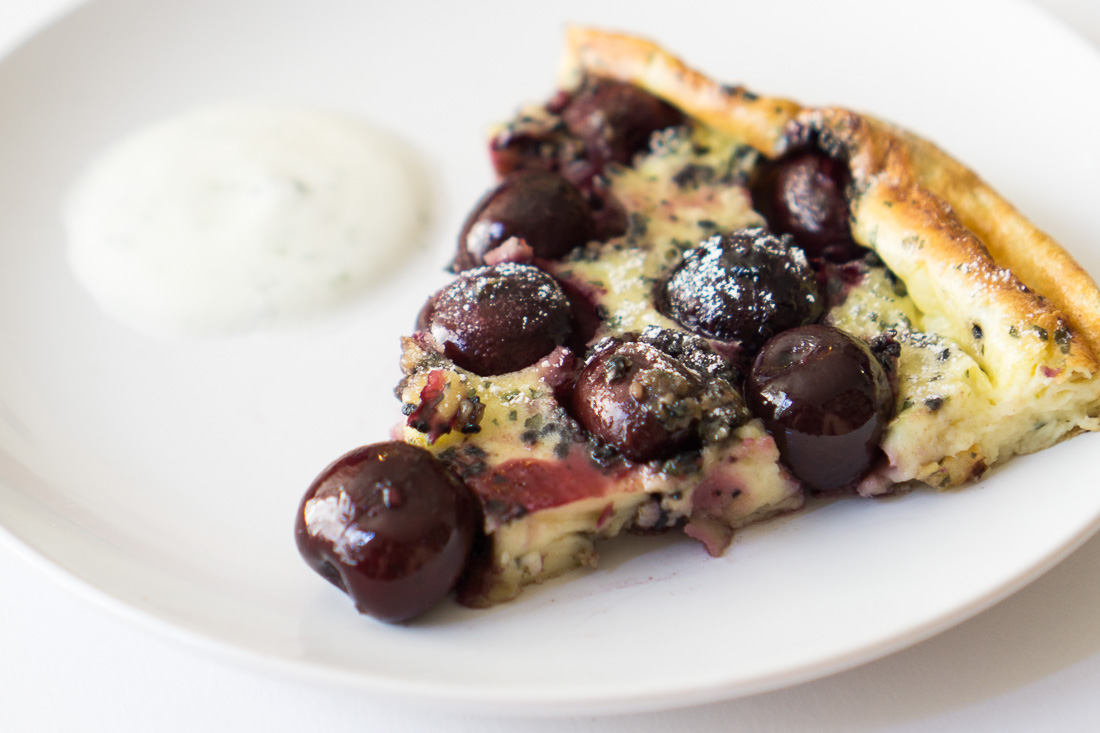 Attempting to eat at State Bird Provisions can be an exercise in frustration, as I learned in the weeks I searched for open tables.  Reservations are released two months in advance and can be procured only by battling it out with other restaurant-goers on their website, braving their line to attempt to procure a same-day reservation, or throwing in the towel and hiring someone to wait in line for you.  Some have even stooped to creating reservations bots to game the system and steal all the reservations.
All this hype made me wary.  However, after a good friend vouched strongly for the restaurant, I became curious and tried my hand at finding a cancellation.  After weeks of endlessly refreshing the reservations page, I found a table.  Then later, another, and then a third.  I actually kept all three, ate there three times, and left fully enchanted with the restaurant.  As it turns out, State Bird Provisions deserves all of its accolades.
The first time I walked in, I expected a self-consciously hip San Francisco eatery – dark wood, rustic, and the lights would probably be dim, and, well, sexy.  But fortunately, there was only warm, bright lighting at State Bird, cheery graciousness, and a cozy, but spare, seventies-diner-meets-mid-century-modern aesthetic.  I was immediately disarmed and shed my defensive scowl at the door.
The second time I went, as a party of two, we were offered seats at the bar in front of the prep area, which we eagerly took.  (Sitting at the bar is my favorite thing to do because being able to chat with the cooks and servers always makes eating out feel like a friendlier, more interactive experience.)
What amazed me most about State Bird was how it was able to combine ingredients that seemed so incongruous into dishes both coherent and wildly delicious.  Japanese and South Asian flavors were sprinkled all over the menu in innovative ways.  It's one of those restaurants where you can't look at the menu and imagine what a dish will taste like; you just have to place your trust in your server.
For example, the Pickled Local Anchovy-Tomato Toast (in the above photo gallery) sounds like a typical strong-tasting tapas-type toast, which couldn't be further from the executed dish.  The anchovy is mild and soft, slicked with oil, and luxuriously rich.  The brilliance, and unexpected twist, involves the restaurant's use of a sesame-crusted toast as a base for the anchovies: the sesame seeds add another layer of rich, succulent flavor to the anchovy.  I've watched fish-haters and pickle-avoiders alike be converted by a single bite of this toast.
Another example of the brilliance of the chefs at State Bird Provisions: their lamb stir-fry dish, which they call "Don Watson's Lamb with Cumin, Squid, Shishitos, and Dates" (also pictured in the gallery).  Reading that description, even now, confuses my appetite.  How is it possible that lamb, squid, dates, and pea tendrils could combine to taste like anything other than dinner cooked by an imaginative five-year-old?  And yet, and yet…this was a beautifully composed dish, the loveliest, most subtle stir-fry, with layers upon layers of flavor that complemented each other.  The lamb was delicately crusty, and each bite of sweet date was a welcome surprise.  Genius.
As with any restaurant that pushes the envelope, you'll undoubtedly encounter dishes that don't quite work for you, like I did.  Yet the sign of a terrific restaurant is one that inspires you even when you don't quite see eye-to-eye on a dish.  For me, out of State Bird Provisions' many dishes, the dish that wasn't quite to my taste, but that I still thought was brilliant, was the Butter Roasted Cherries with the classic Japanese ingredients kinako (roasted soybean powder), black sesame, and shiso leaves (a Japanese leafy herb).  Tending more towards the savory than the sweet, the dish almost made me think that I was eating hot cherry tomatoes.
I realized that I craved a sweet version of State Bird Provisions' Butter Roasted Cherries.
I went home, mulled over my dinner for a few weeks, and decided to make a classic cherry clafoutis…but to incorporate State Bird's trifecta of kinako, black sesame, and shiso.  John Thorne's classic Outlaw Cook provided the basic recipe for a flavorful, not-too-sweet breakfast Cherry Clafoutis.
The lovely Clotilde Dusoulier at Chocolate & Zucchini inspired me to add lime to the shiso…and indeed, lime zest instead of the clafoutis-classic lemon zest pairs well with the shiso and brightens all the flavors.  And a lime-shiso yogurt sauce provides a tangy, refreshing foil for the rich, eggy clafoutis.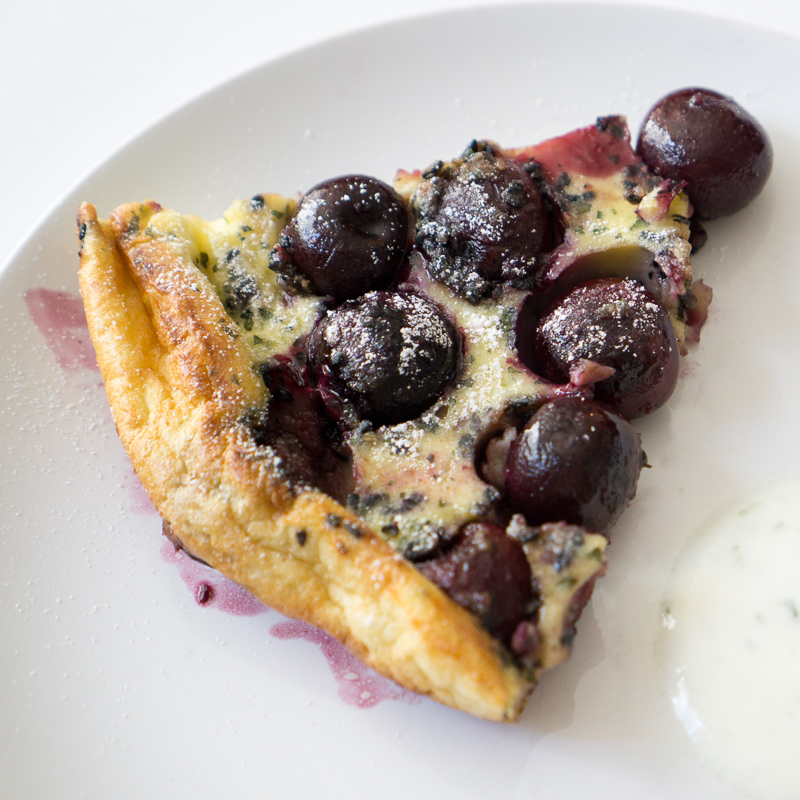 Rarely am I satisfied with a recipe the first time I test it, but luckily (given the heat and my general laziness), this turned out to be exactly what I wanted.  Tangy with cherries, rich with kinako and sesame, and bright with lime and shiso, this State Bird Provisions-inspired Lime-Shiso Cherry Clafoutis would be a perfect breakfast or brunch dish, or even a light, not-too-sweet summer dessert.  And since cherry season is almost over, make it this week!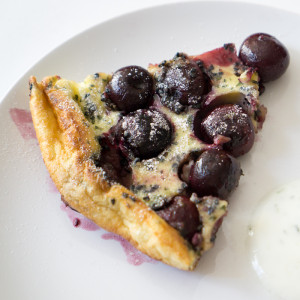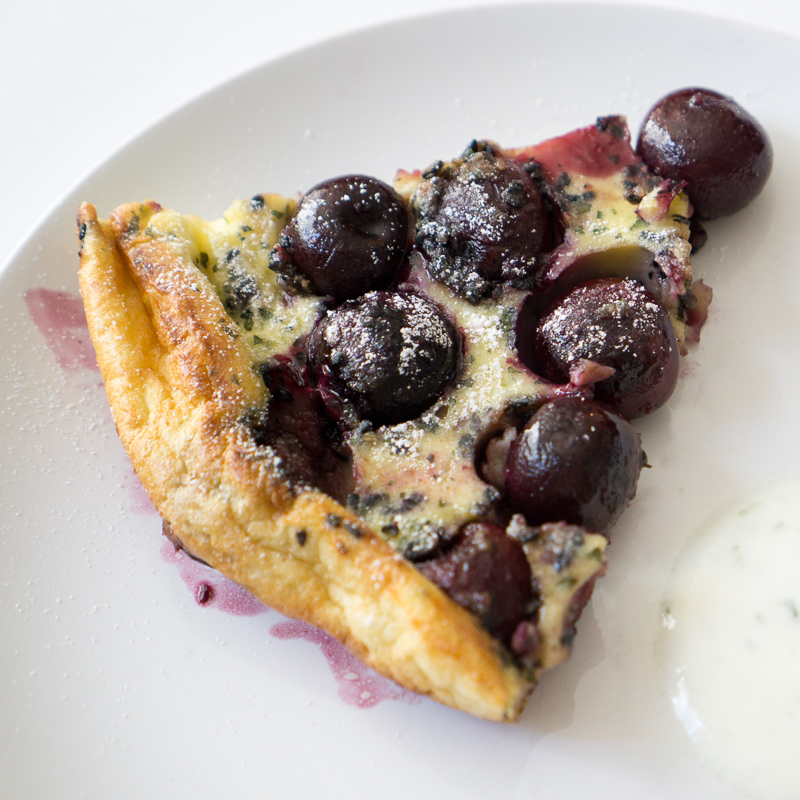 Lime-Shiso Cherry Clafoutis with Kinako and Black Sesame
The Japanese ingredients in this recipe, namely the kinako and fresh shiso leaves, might be hard to find unless you have a Japanese grocery store handy. Kinako is a roasted soybean powder; I've seen packets of it sold on Amazon.com. Black sesame seeds taste somewhat nuttier to me than normal white sesame seeds (could it just be my imagination?). Shiso leaves are a Japanese leafy herb that tastes warm, a little sharp, and a tad astringent; the only comparison I can think of is cilantro, but I suspect even cilantro-haters could love shiso. If you can't get access to any of these ingredients, feel free to cut out the shiso leaves, kinako, and black sesame seeds and make a normal (and very delicious) cherry clafoutis. Adapted from John Thorne's Outlaw Cook
Ingredients
12

oz.

cherries

pitted or unpitted

Zest from 2.5 small limes

5

fresh shiso leaves

chopped finely into ribbons (the easiest way is to stack the shiso leaves on top of each other and roll them into a thin cylinder, and then slice)

9

tbsp.

ultrafine sugar

if you don't have any, process some granulated sugar in a food processor, or, ideally, a clean coffee grinder

1/2

cup

unbleached all-purpose flour

1/4

tsp.

salt

2

large eggs

1

cup

milk

1

tablespoon

unsalted butter

plus 1/2 tbsp. unsalted butter for greasing the pan or pie plate

1

tbsp.

kinako

roasted soybean powder, which you can easily find in Japanese markets or online

1

tbsp.

roasted black sesame seeds

easily found in Japanese markets

Confectioner's sugar for dusting

1

cup

yogurt

low-fat is ok
Instructions
Preheat the oven to 425 degrees F. Wash and prepare the cherries, which should be stemmed and, if desired, pitted.

Very generously butter a 10-inch baking dish (such as a pie pan) with 1 tablespoon butter and your fingers, making sure to butter at least 2/3 of the way up the sides of the baking dish.

Make lime-shiso sugar by mixing the lime zest with sugar and shiso leaves on a chopping board. Incorporate the zest and shiso with the sugar by chopping the mixture until the shiso and lime look finely minced with the sugar. Set aside.

In a large bowl (one with a pouring spout makes things easier), sift together the flour and salt. In a small bowl, beat the eggs gently and whisk in the milk. (A whisk is really necessary here to wholly incorporate the flour and break up any lumps. I used a fork at first, but quickly realized the necessity of a whisk). Add the wet to the dry ingredients a little at a time, whisking until smooth. Stir in 3 tbsp. of the the lime-shiso sugar. You should see little bits of shiso leaf and lime zest rise to the surface. Let the batter rest while the fruit is being cooked.

Measure out an additional 3 tbsp. of the lime-shiso sugar into a small bowl and mix with 1 tbsp. of kinako (roasted soybean powder) and 1 tbsp. black sesame seed. Set aside.

In another small bowl, mix the remaining lime-shiso sugar, to taste, with the 1 cup of yogurt. (Try adding about half the lime-shiso sugar to the yogurt, and then increasing the amount until you like the flavor.). Refrigerate the lime-shiso yogurt mixture until serving time.

In a 10-inch skillet or saucepan, melt the butter over medium heat, coating the bottom and sides of the skillet. When the butter is bubbling, add the cherries. Stir gently (or gently move pan in circular motion) until each cherry has softened and is coated with butter, about 2 to 3 minutes. Then, sprinkle in the kinako-black sesame-lime-shiso sugar mixture. As the kinako sugar mixture melts and absorbs the butter and little bit of cherry juice produced during the cooking process, stir the mixture until the cherries get covered in the sugar mixture. The cherries will look a little dull from the kinako coating; that is perfectly normal. After about 2 minutes, the kinako coating should have largely adhered to the cherries.

Gently pour the cooked cherries into the buttered baking dish. Shift the baking dish in small circular motions as needed to distribute the cherries evenly. Stir up the batter that you made earlier, and scrape it carefully over the cherries. Shift the baking dish as necessary to settle the cherries into their final baking positions.

Put the baking dish into the oven to bake for about 20 minutes. By the end of the baking process, the clafoutis will be set, golden brown, and puffed up at the edges. (If you have a glass oven window and are an obsessive oven watcher, like me, don't fret that the clafoutis doesn't puff up immediately – it will do so only toward the end of baking.) Remove the clafoutis from the oven and divide into bowls or plates, sift a little confectioner's sugar over each, and top if you like with a spoonful of the lime-shiso yogurt.
Notes
I think leaving the cherries unpitted preserves the integrity of the fruit, minimizes bleeding into the batter, and is more aesthetically pleasing. It's a bit more inconvenient to spit out the pits, but I don't really mind.