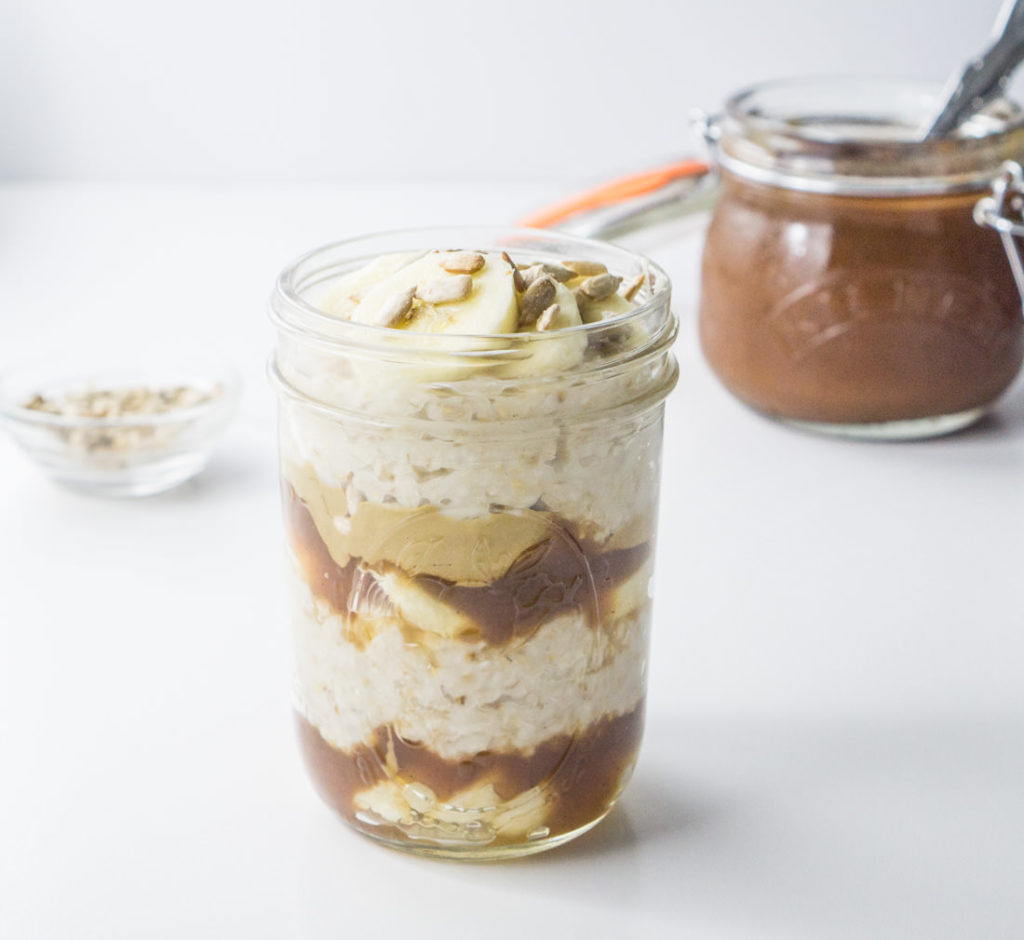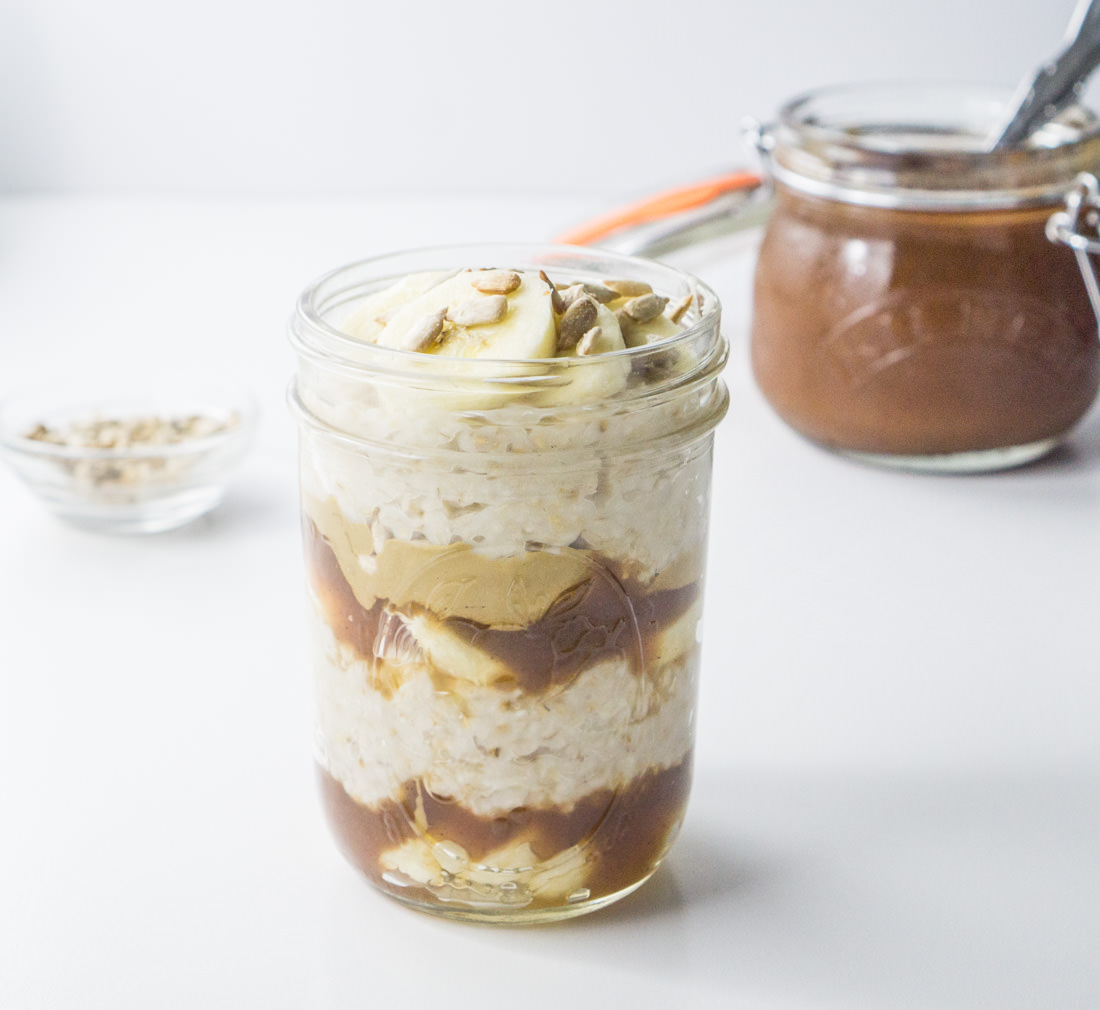 This week, we're making a fast, delicious, healthy, and portable breakfast: Overnight Steel-Cut Oats layered in a jar with ripe banana slices; sweet and tangy apple butter (my favorite recipe here); and rich, nutty sunflower seed butter. No more standing over a stove for upwards of half an hour, constantly stirring the pot until you get your morning oats. This recipe takes less than 10 minutes of active time. You'll no longer have any excuse to not eat a healthy breakfast.
Almost every day, my husband wakes up while it's still dark outside. Unless he wants to hit massive amounts of traffic, he has calculated that he has about 10 minutes to brush his teeth, get dressed, give me a kiss, and run out the door. Any adjustments to the schedule better be very, very important. And recently, we determined that getting breakfast from the fridge merits an extra minute or so before he dashes out the door.
Breakfast in a jar is key. It's portable, small, and sturdy enough to pack in a little bag for work. And the fiber from the oatmeal and fruit and the fat from the sunflower seed butter keeps him full and satisfied for hours.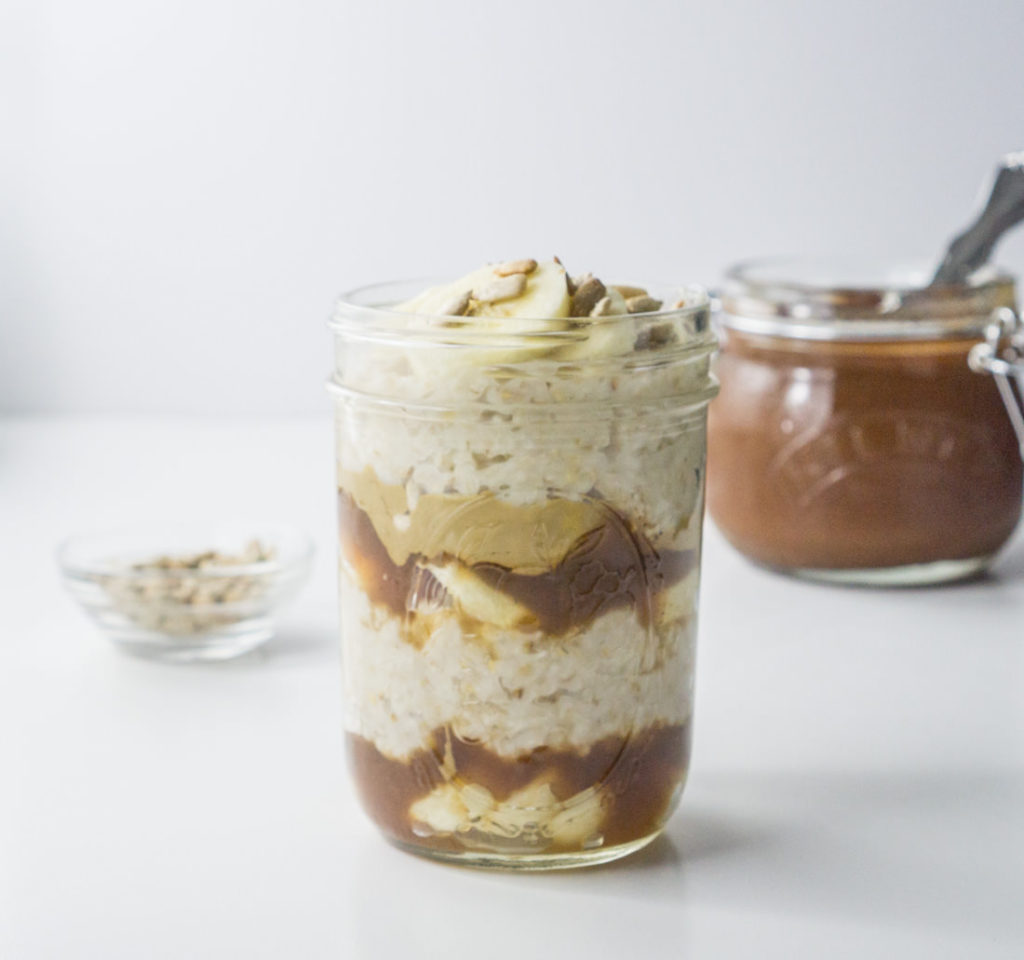 Although I love the satisfying chewiness of steel-cut oats, I almost never made them until I discovered this recipe. Now I can take less than 10 minutes to prep and boil the oatmeal before going to bed, cover the pot, and return the next morning to cooked oatmeal! It feels truly magical to be able to have breakfast cook overnight, off the stove, with just the residual heat from the boiling and the pot.
Start with some steel-cut oats and coconut oil.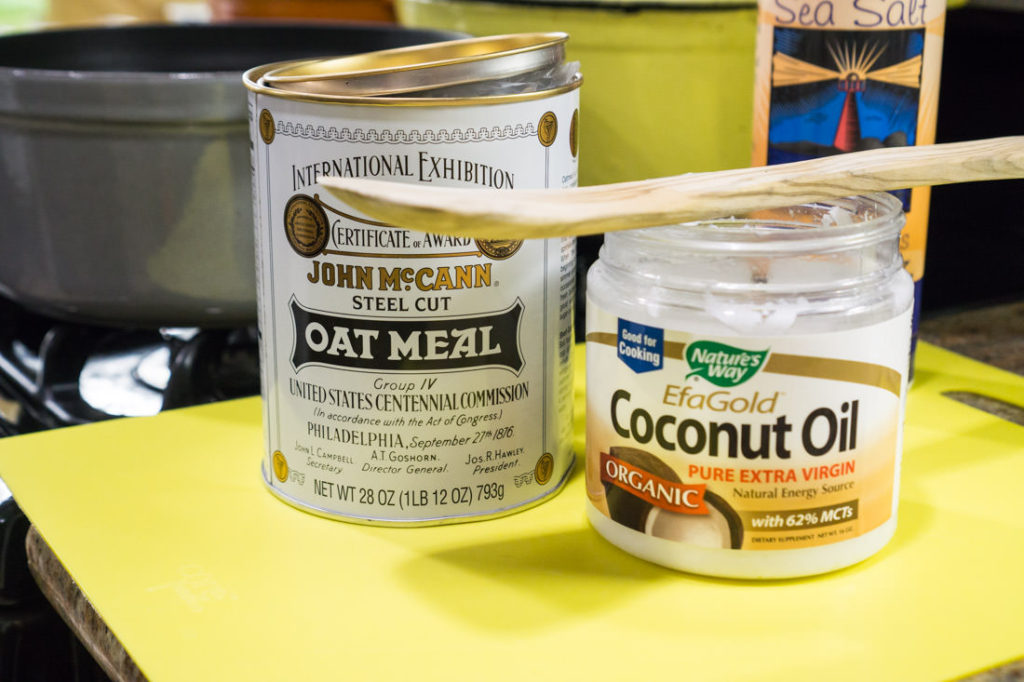 Plop a spoonful of coconut oil in your deep, 4-quart pot. Heat until a droplet of water, or a kernel of oats, lightly sizzles in the oil.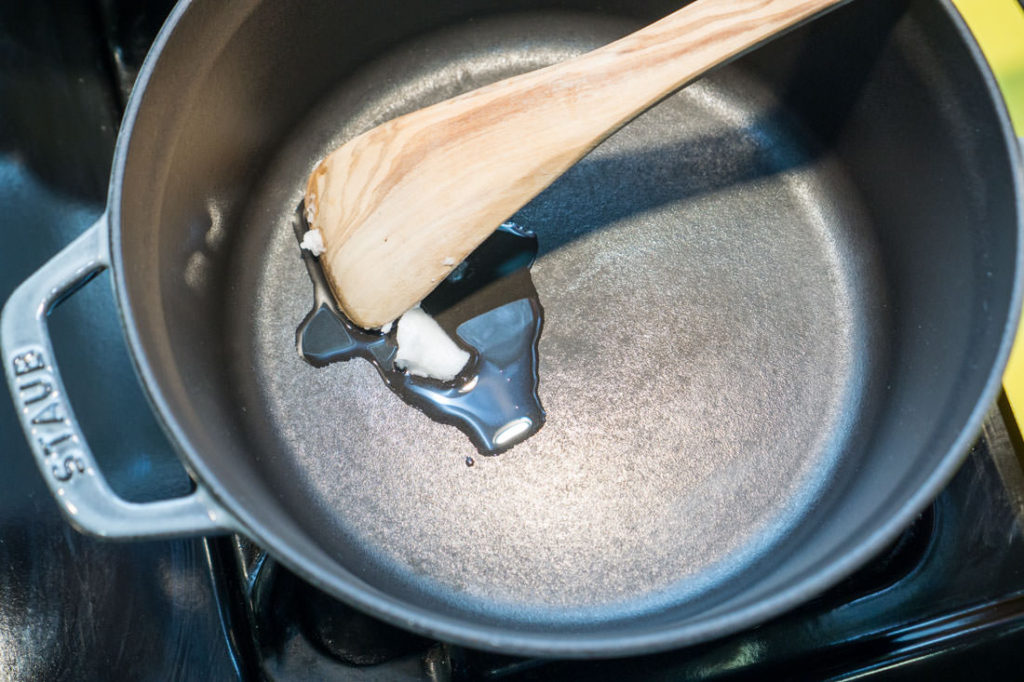 Add the oats and salt, and stir-fry. The smell of oats being pan-fried in coconut oil is heavenly–a mix of tropical island and freshly-baked cookies.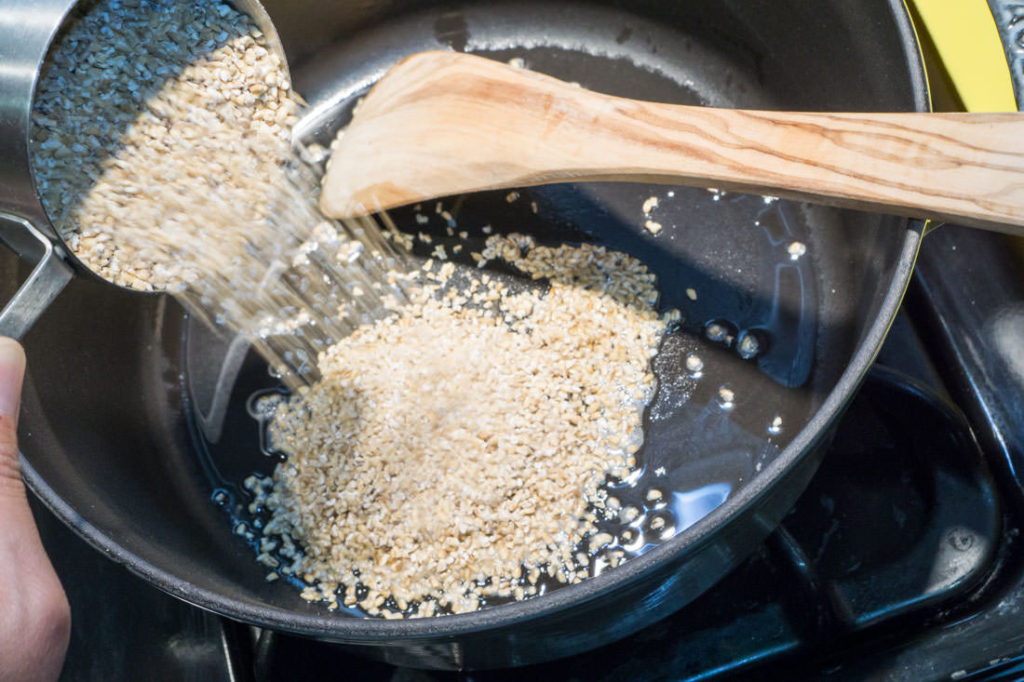 After the oats are browned to your taste, add the water.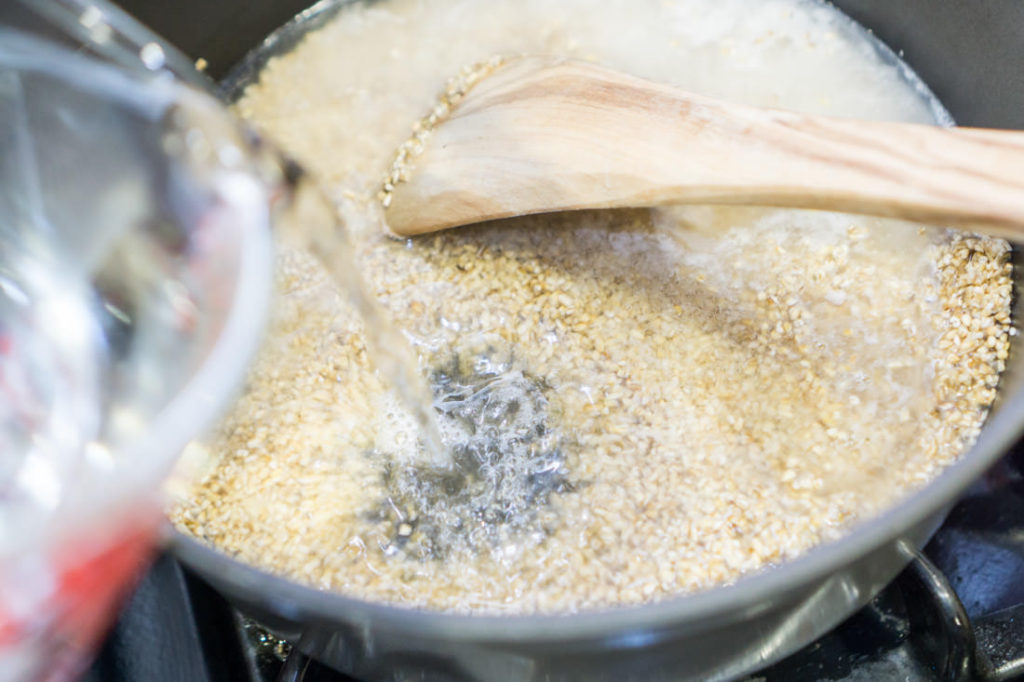 Bring the water to a full, rolling boil, and then boil for one minute.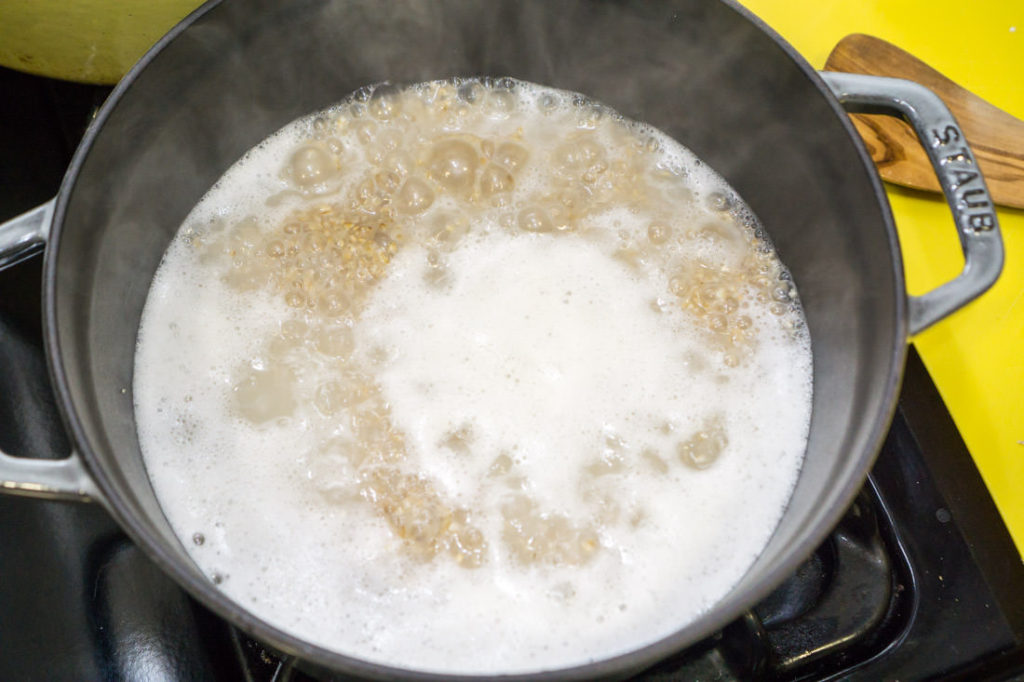 Turn off the heat, and place the lid on the pot. Leave it on the stove, if you'd like. That's it! The residual heat will cook the oats. It's like magic!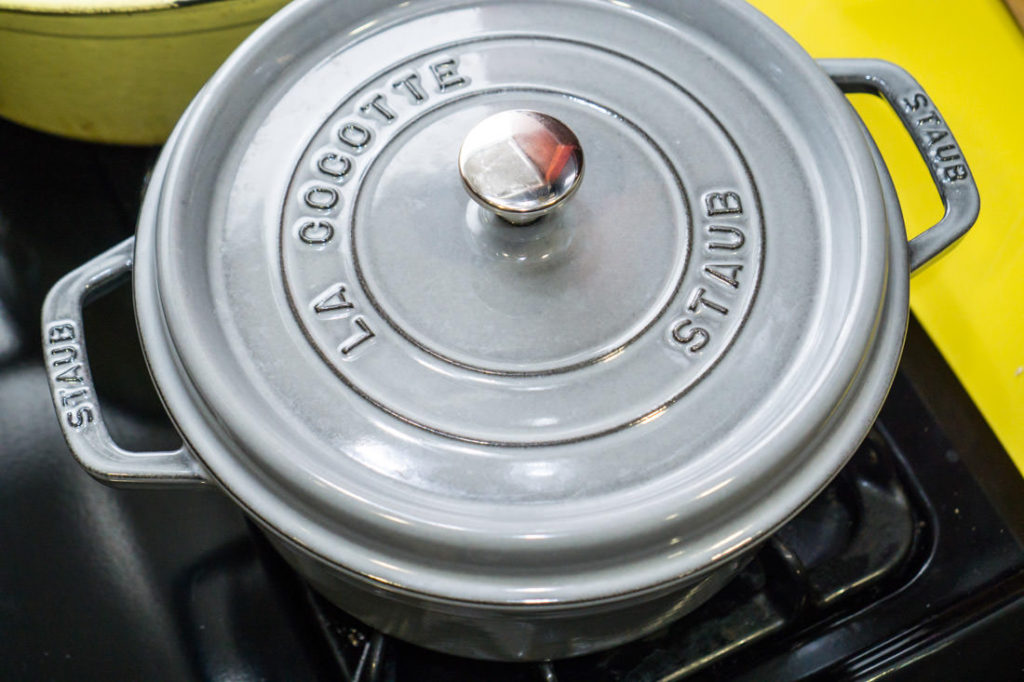 The next morning, open the pot…to find…
Oatmeal!!
Okay, this looks a little weird and lumpy. But let's give it a good stir, shall we?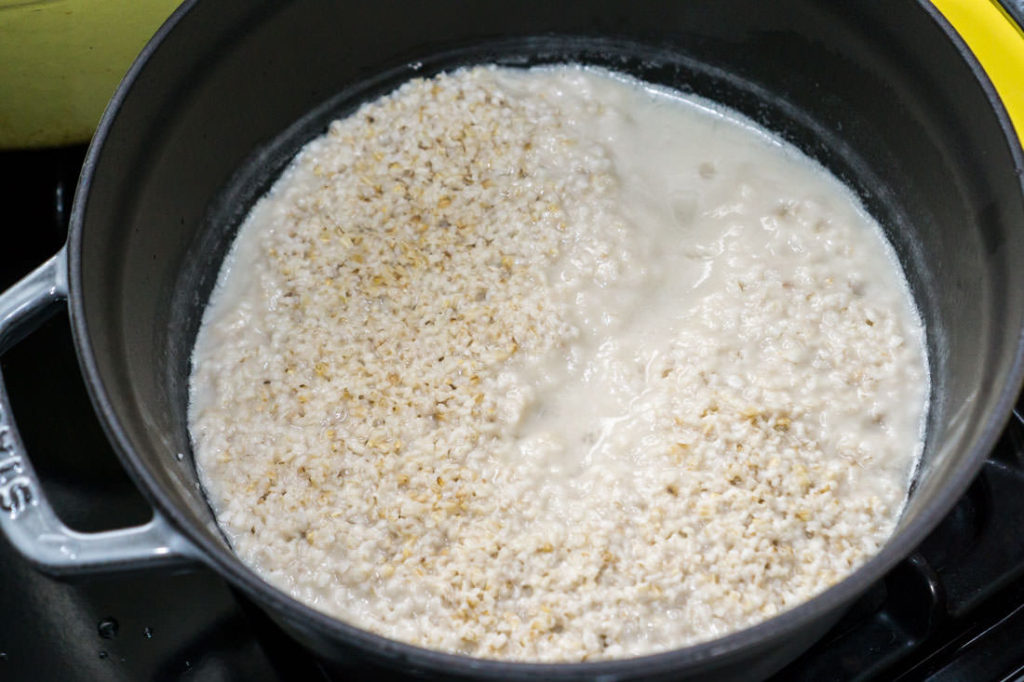 Perfect oatmeal. And you didn't even have to spend a full 1/2 hour slaving over the stove!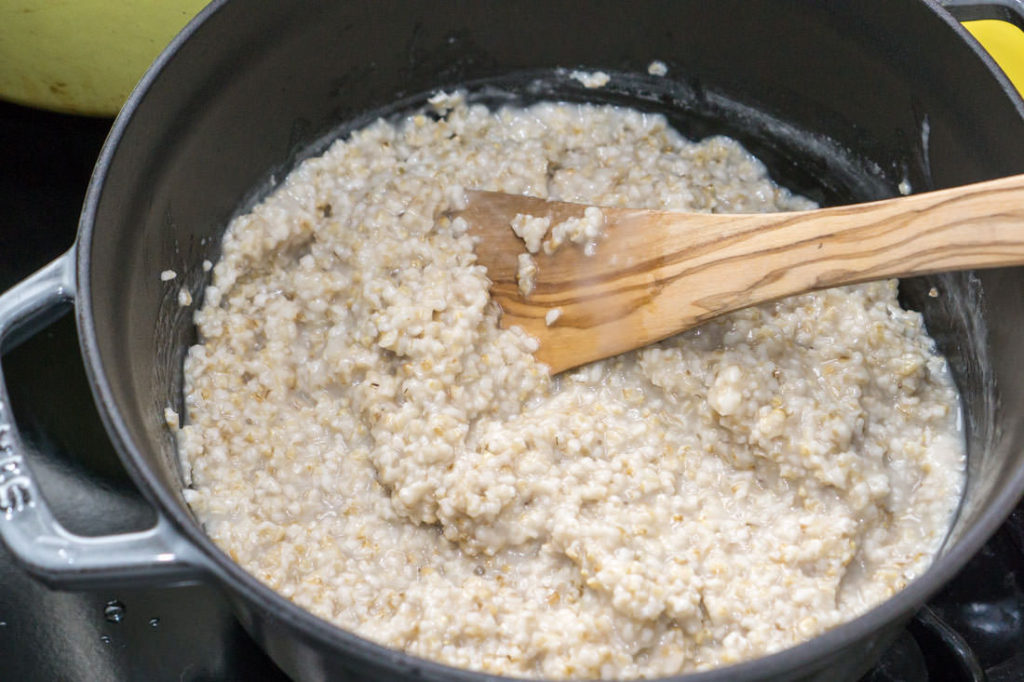 My husband and I have settled on this recipe for portable steel-cut oats. I layer the oatmeal with banana slices, apple butter, sunflower seed butter, and sunflower seeds for a little crunch.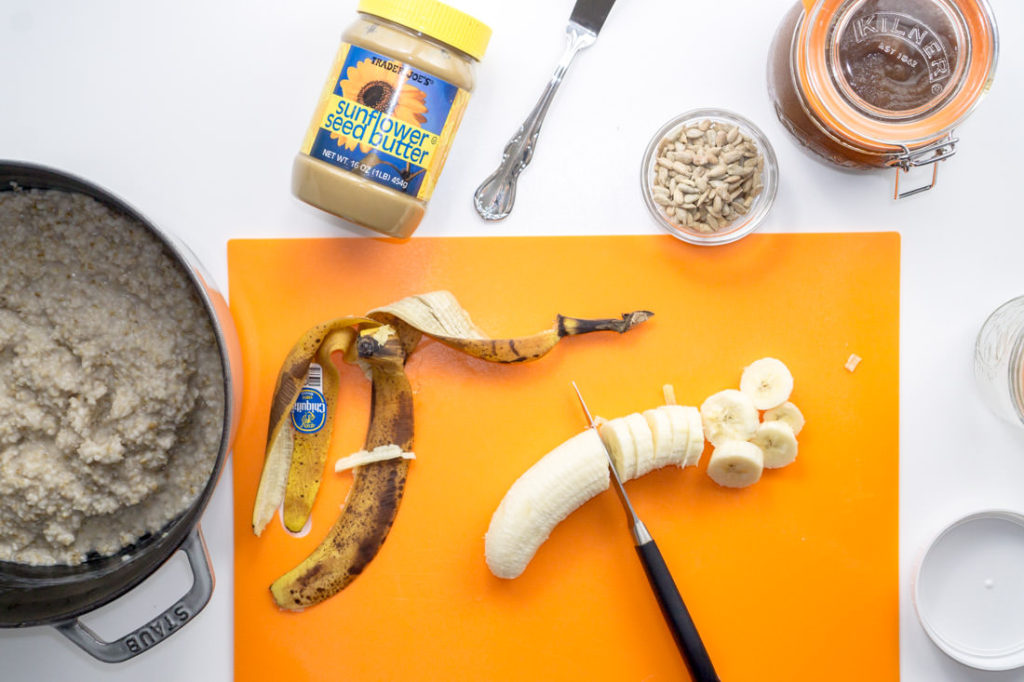 The sunflower seed butter is one of my favorite discoveries of the year. (I know, I'm late to the party…) I honestly really prefer it to peanut butter. Sunflower seeds aren't even one of my favorite snacks, but in the context of a butter, the earthy flavor really works. I could eat it out of the jar.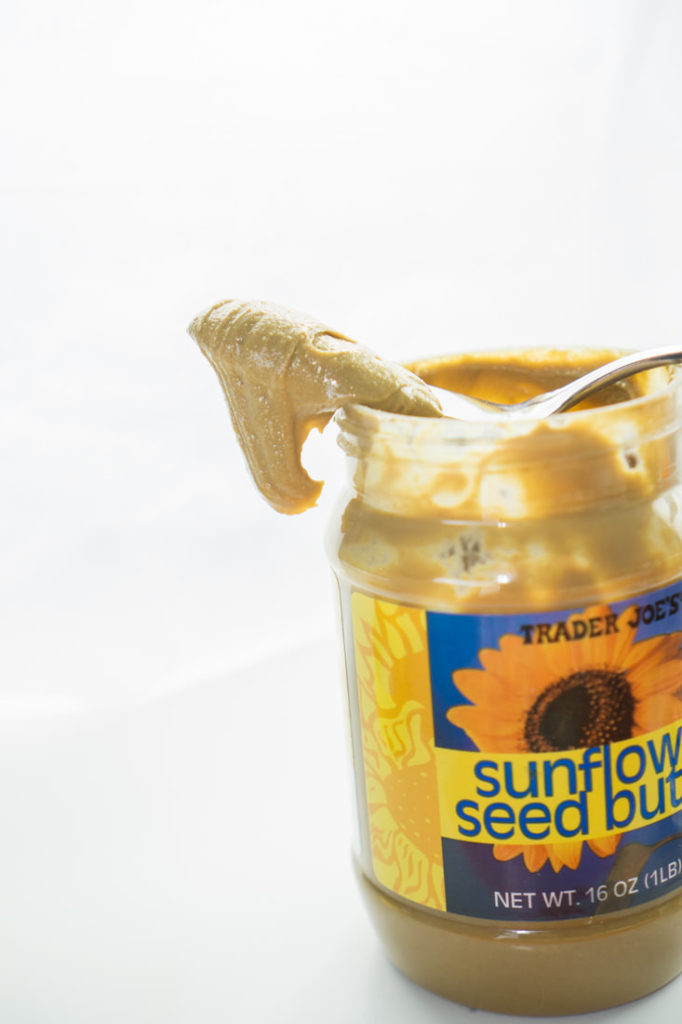 Add some ripe banana slices to the bottom of a 12-ounce mason jar.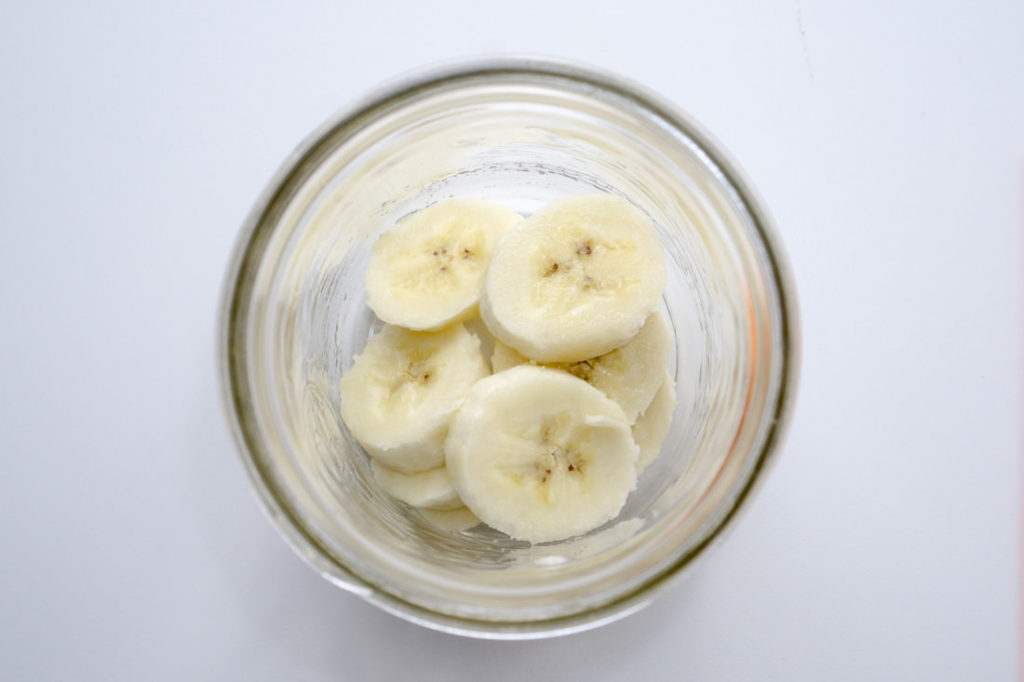 Spoon some apple butter over the banana slices, then add a spoonful of sunflower seed butter and a sprinkling of sunflower seeds.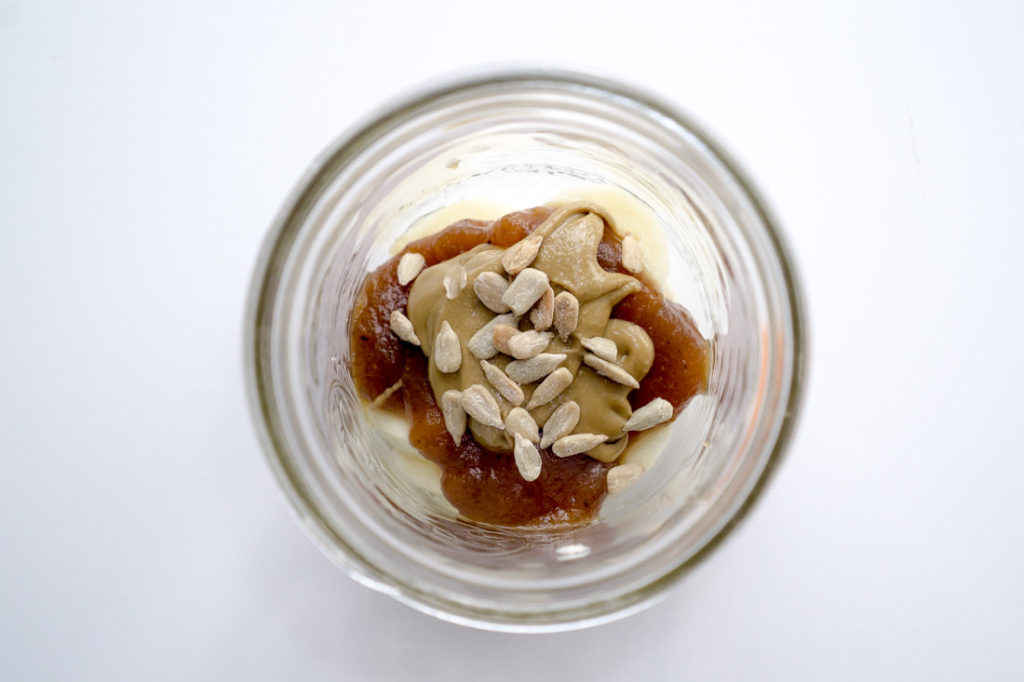 Add the oatmeal and smoosh it all down slightly.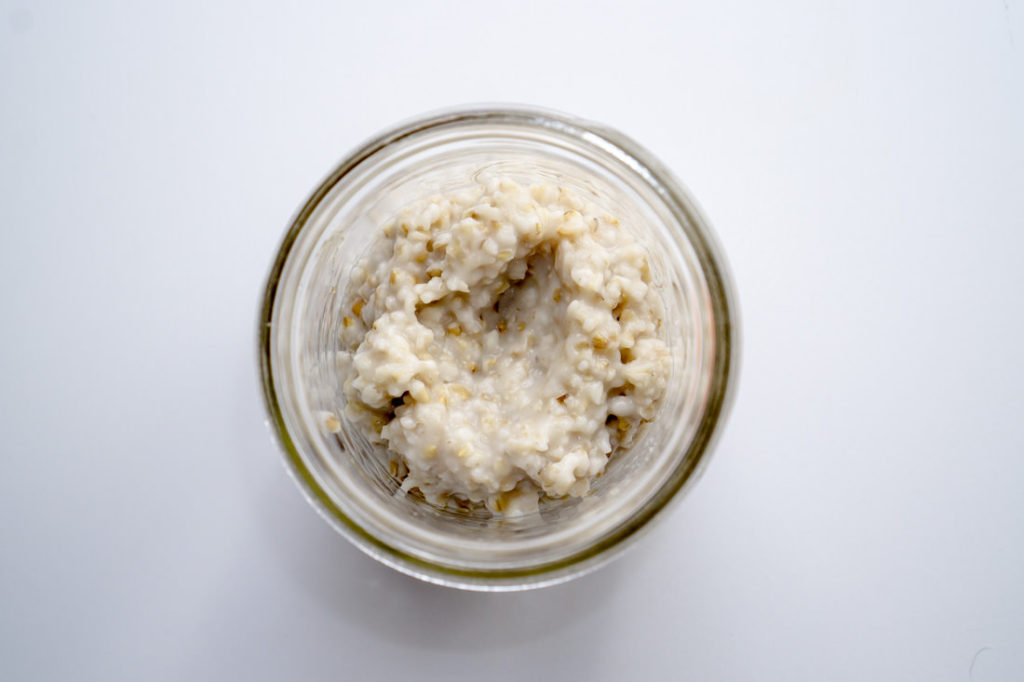 Continue the layering process. I like to top it with a pretty layer of banana slices and a final sprinkling of sunflower seeds.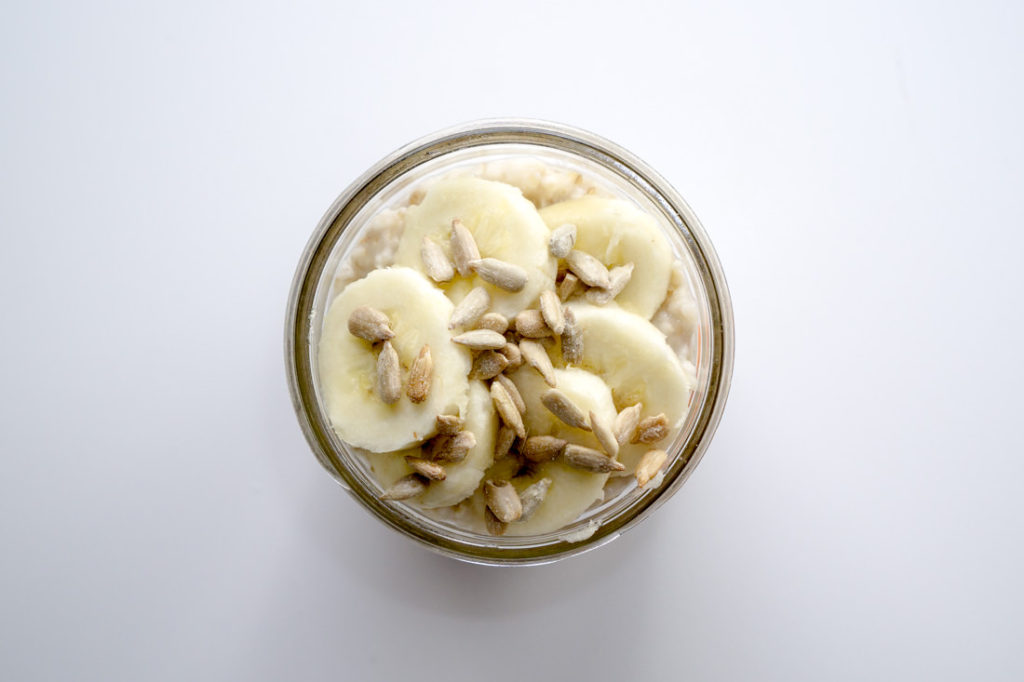 Add a lid and a spoon, and you're ready for a healthy and delicious breakfast on the go that will give you energy all day.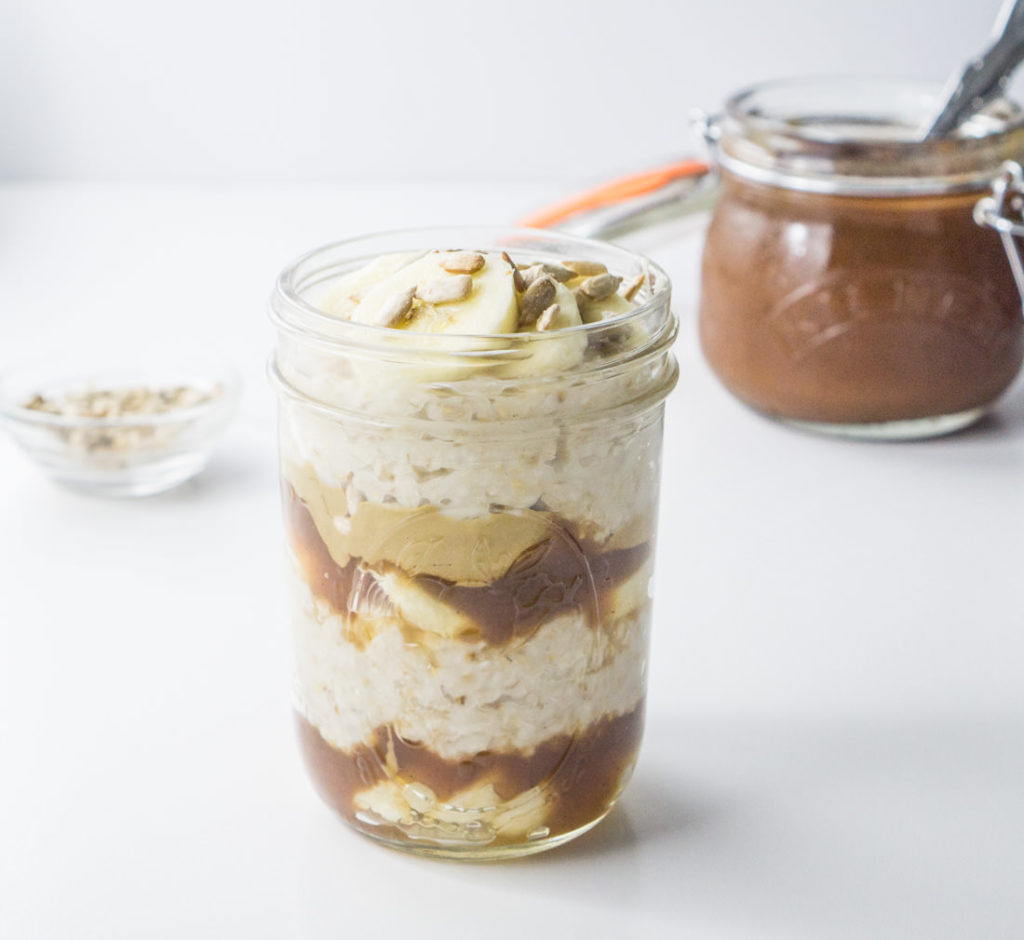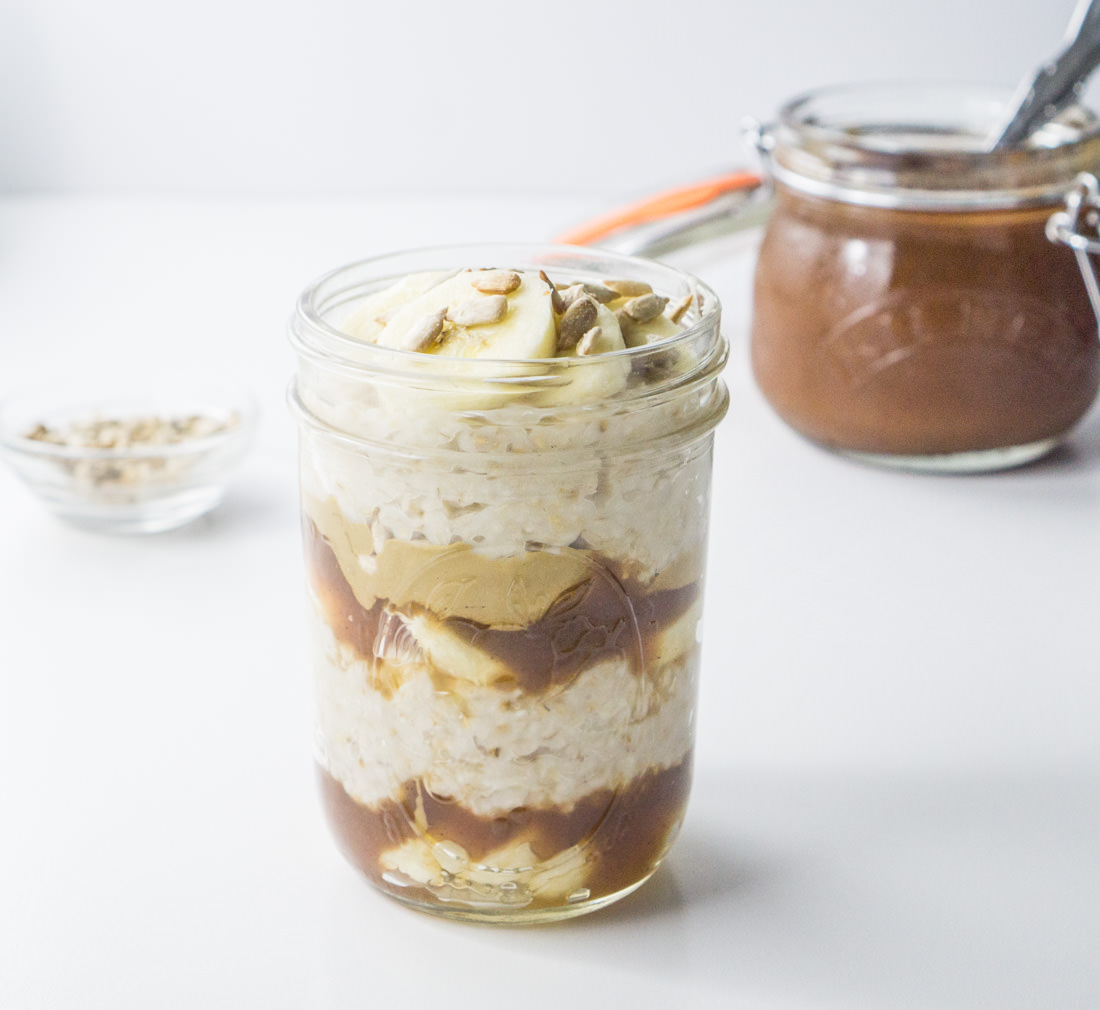 So the next time you find yourself feeling hungry by mid-morning because that energy bar for breakfast just doesn't cut it, try this fast recipe for steel-cut oats! I don't want to say it's life-changing…but okay, it's kind of life-changing.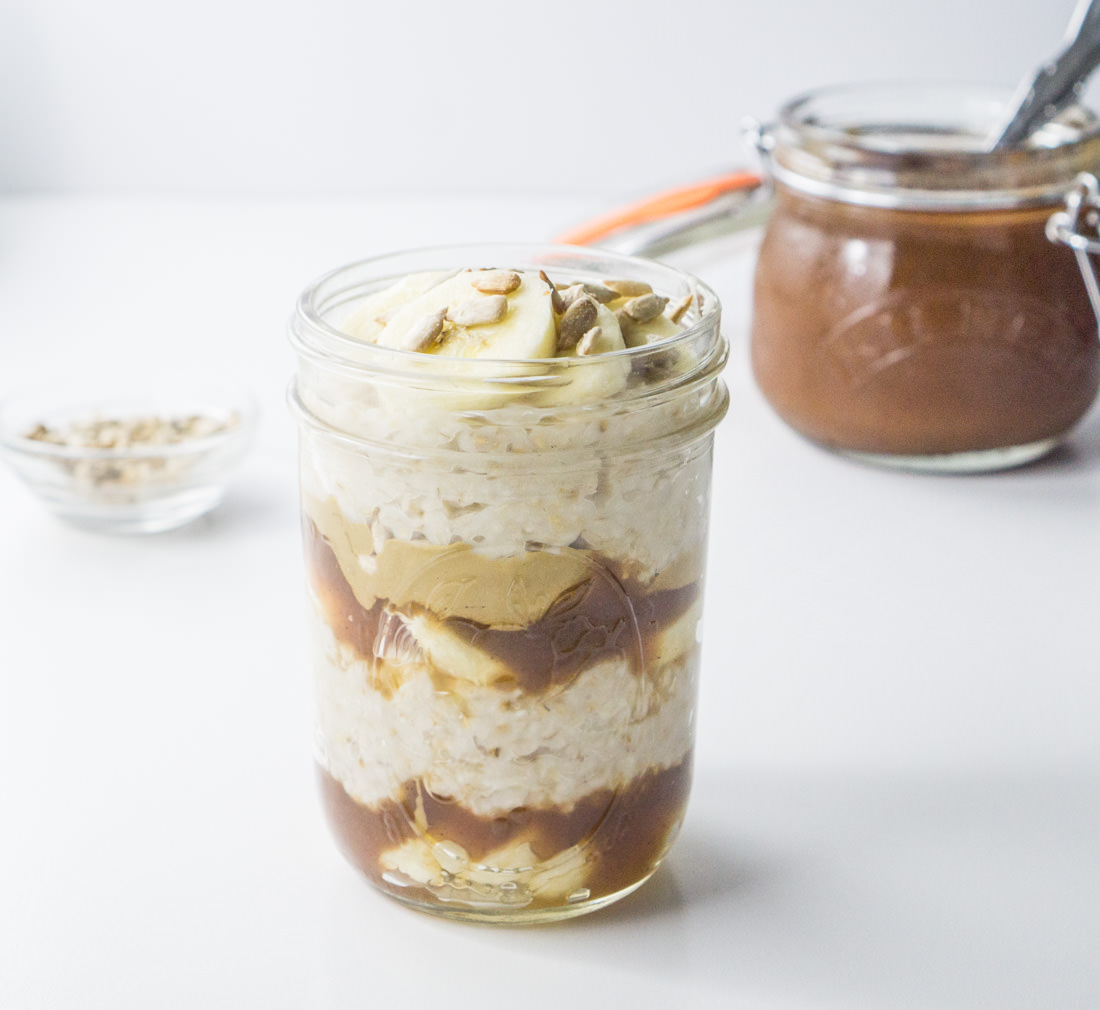 Overnight Steel-Cut Oats
Ingredients
1

Tbsp.

coconut oil

1

cup

steel-cut oats

1/2

tsp.

sea salt

3.5-4

cups

water
Instructions
In a deep 4 quart pot with a lid, heat the coconut oil over medium heat for about 2 minutes, or until the oil sizzles slightly when a few kernels of steel-cut oats are added. Add the oats and salt, and sauté until fragrant and lightly toasted.

Add 3.5 cups of water to the pot, stir, and bring the oats to a rolling boil. Let the oats boil for 1 minute, stir, turn off the heat, and immediately cover the pot with the lid. Leave at room temperature overnight.

The next morning, reheat the oatmeal, adding additional 1/2 cup of water, if desired. Alternatively, you can layer the cold oatmeal in a jar with sliced bananas,

apple butter

, and sunflower seed butter, or any other fruit and/or toppings you desire.